Exclusive: Olsen Twins Will 'Definitely Not' Be On 'Fuller House'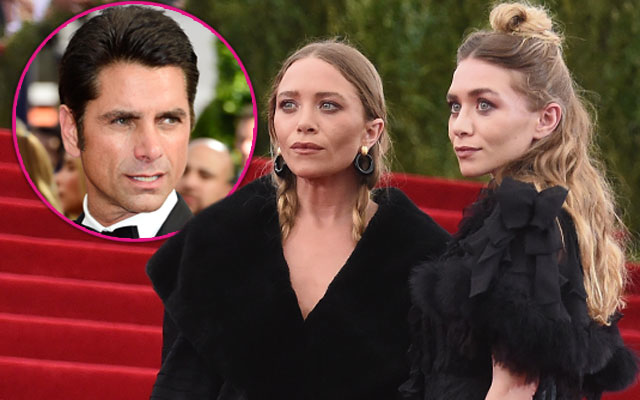 Filming for Fuller House – Netflix's much-anticipated remake of 90's hit sitcom Full House – is wrapped and RadarOnline.com has exclusively learned that Mary-Kate and Ashley Olsen did NOT film a cameo!
After much speculation, the 29-year-old fashion-industry billionaires were rumored to at least be making a short appearance, but a production insider said that they will not be doing that either.
"Mary-Kate and Ashley have refused to have anything to do with the show," the source said.
Article continues below advertisement
The Olsens' refusal to participate was first reported by RadarOnline.com in in April 2015. But then on Jimmy Kimmel Live, John Stamos claimed that he expected the entire cast to return, including the Olsens.
Shortly after Stamos's announcement, however, Mary-Kate said that they were not asked to be on the remake when she told Women's Wear Daily, "I'm shocked that I haven't heard from John. I guess we are going to talk to the creators and see what's happening."
As RadarOnline.com reported, Stamos immediately took to his social media to respond to MK's comment and said, "I call bullsh*t!"
"Mary Kate and Ashley are just trying to do some damage control because they had told producers that they have no interest in being in the show," the insider said at the time.
Then, in August, RadarOnline.com learned that setbacks in filming prompted Stamos – who is executive producer on the projects as well – to bite the bullet and offer the Olsens more money. But the multi-millionaires said no thanks.
Article continues below advertisement
And that would have been the last words between Stamos and his former onscreen nieces. Until now.
This past weekend, Mary-Kate married her older banker boyfriend Pierre Olivier Sarkozy, and invited nearly everyone that she knew, except for Stamos.
But the hunky recently-rehabbed actor did not drink over this one. Instead, he got the closure he needed when he posted a congratulatory message to Mary-Kate on social media, which read, "In the blink of an eye." Congrats MK. X."
Although the Olsen twins will not appear in the remake, as it stands now, it will include the remainder of the original cast – Bob Saget, 59, John Stamos, 52, Dave Coulier, 56, Lori Loughlin, 51, Candace Cameron-Bure, 39, and Jodie Sweetin, 33.
Do you think that Mary-Kate and Ashley Olsen are wrong for refusing to be on the show that started their extremely lucrative careers? Tell us your thoughts in the comments below.