Miss Philippines & Miss Colombia Haven't Spoken Since Pageant Winner Mix-Up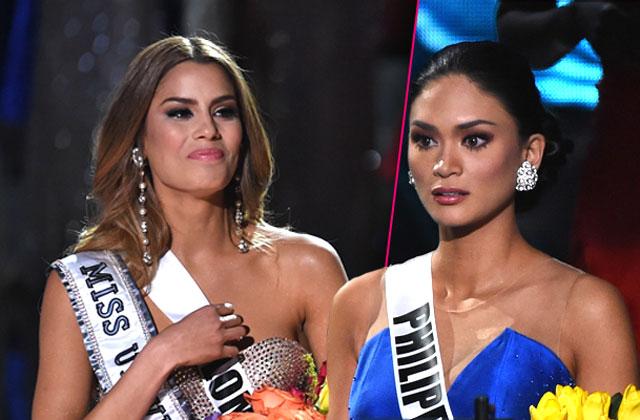 There's no love lost between the Miss Universe finalists after Steve Harvey announced the wrong winner during this year's dramatic pageant finale, and had to awkwardly correct his mistake on live television.
After her victory was revealed, Miss Philippines Pia Wurtzbach confessed that she hasn't reached out to humiliated runner-up Miss Colombia Ariadna Gutierrez since.
"I was confused. I wasn't sure what was going on," Wurtzbach told Entertainment Tonight of Harvey's epic mix-up. "I didn't expect that to happen at all."
Article continues below advertisement
Watch the Video on RadarOnline.com
The road to the Miss Universe crown is never easy. A message from Miss Universe 2015, Pia Alonzo Wurtzbach.

Posted by Miss Universe on Sunday, December 20, 2015
"Gutierrez was crying and then there was a crowd around her, the girls who were comforting her," she continued, remembering the emotional fallout backstage. "I was actually very close to her already, but I decided that maybe it was bad timing to do it now –– to apologize to her for what happened."
"So maybe I'll do that in the future," Wurtzbach added.
Watch the Video on RadarOnline.com
A message from Miss Universe Colombia.

Posted by Miss Universe on Sunday, December 20, 2015
Luckily for Gutierrez, fellow Colombian Sophia Vergara lent her support soon after the pageant flub, taking to Twitter for a personal shout-out.
"La Reina de todos modos @guitierrezary #colombia," the actress tweeted, which translates to "the queen anyway" in English.
Meanwhile, as RadarOnline.com previously reported, pageant host Harvey has spun into a meltdown over his epic mistake.
"I want to apologize emphatically to Miss Philippians and Miss Columbia," he posted on Twitter, misspelling country names in the process. "This was a terribly honest human mistake and I am so regretful."