Exclusive
Caught On Camera! Republican Prez Candidate Mike Huckabee Snapped — With Hooker!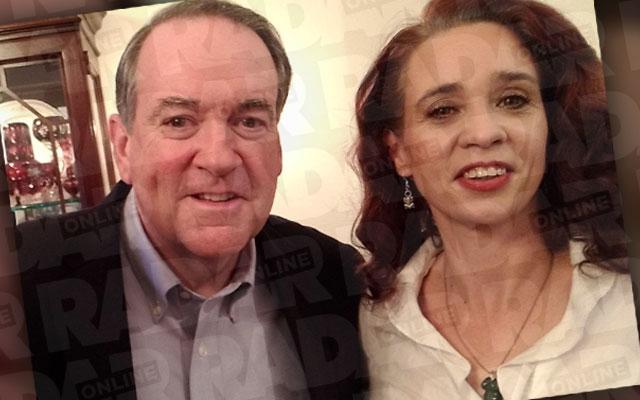 Squeaky-clean Republican candidate Mike Huckabee might have some explaining to do !
The 60-year-old former Arkansas governor was recently photographed with a prostitute in Carson City, Nevada, where he was campaigning before heading to Las Vegas for the Republican debate.
RadarOnline.com has learned that the hooker, which Huckabee — famous for his staunch family values platform — was pictured with on Dec. 13 is "Sable Renae" from Dennis Hof's Sagebrush Ranch in Carson City.
Article continues below advertisement
"Gov. Huckabee is going to have a heart attack when this picture gets out," Hof told Radar. "I'm sure he had no idea she is a prostitute and I'd bet on it he is against legalized prostitution."
To add insult to injury, Sable Renae was at the Huckabee fundraiser with a client.
"She was on a date," revealed Hof. "She was working when she went to see Gov. Huckabee!"
"The irony is Sable Renae is the one who told her 'date' she wanted to meet Gov. Mike," added Hof. "Believe it or not, she's a conservative prostitute."
Sable Renae claims on her bio at the sagebrushranch.com that she is "A MILF With Sex-Perience!"
What's more, she's starred in several adult videos, including "Way Over 40—2," "Grateful Grannies" and "Horny Grannies Love To F**k."