Lala Rips Jax: 'Unless I'm Blackout Drunk, I would Never Be With Him!'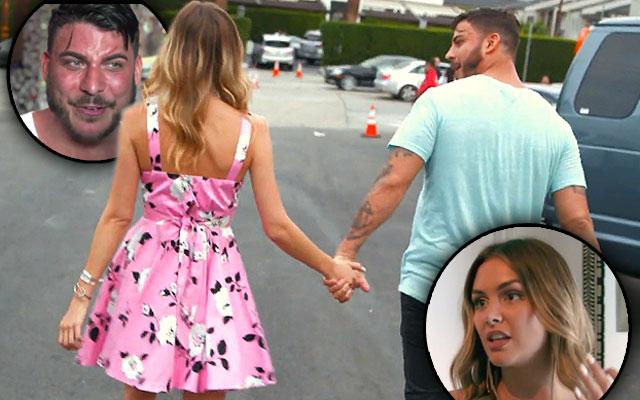 In the last episode of Vanderpump Rules, Lala Kent admitted that she had been "eyeing Jax" Taylor — and then after flirting up a storm, the two left a party together hand-in-hand.
But despite the connection the two costars seemed to making on the episode, RadarOnline.com has exclusively learned that Kent has changed her tune and no longer feels attracted to Taylor.
"I heard a lot about Jax," the 25-year-old Sur hostess told Radar. "If you have a vagina and tits, he's going to probably flirt with you."
Article continues below advertisement
"I just like to flirt — it's like a game for me," she continued. "But unless I'm blackout drunk, I would never be with him, nor have I ever or will ever."
Kent doesn't approve of the 36-year-old bartender's character.
"How we are today — Jax is very stubborn and hard headed, and I click with people who are soft," she said. "Are we the best of friends? No. Do I want to call him and hang out with him? That would be dreaming for me. He's just a little too much."
As Radar previously reported, Taylor hit on Kent while he was still dating Brittany Cartwright.
"If there was a rumor going around that Brittany and I broke up, well maybe I was the one who started that rumor," he confessed about his rendezvous. "But we're not really sure where things are going. So I'm definitely allowed to flirt."
At Taylor's cue, Kent invited him for drinks thinking he was single.
But despite being misled while filming, the inspiring singer doesn't have it out for Cartwright.
Article continues below advertisement
In fact, "I love her," Kent said. "That girl is probably the sweetest person I have ever met in my life."
She thinks that Taylor should stop playing games and remain true to his girlfriend.
"If he f***s this up, it's his loss and her gain," she said.
And while Cartwright and Kent are not good friends, Kent would love to change that.
"I would like to be her friend," she said. "I don't know how she feels about that. But she just seems very authentic and real to me."
Kent added, "Even though she may not be as intense as I am, I feel like we would click for the mere fact because I feel very genuine and I like to say that I'm genuine."
Vanderpump Rules airs on Bravo Mondays at 9 PM ET.