Kylie Jenner & Tyga In 'Huge Fight' Over Christmas Diamond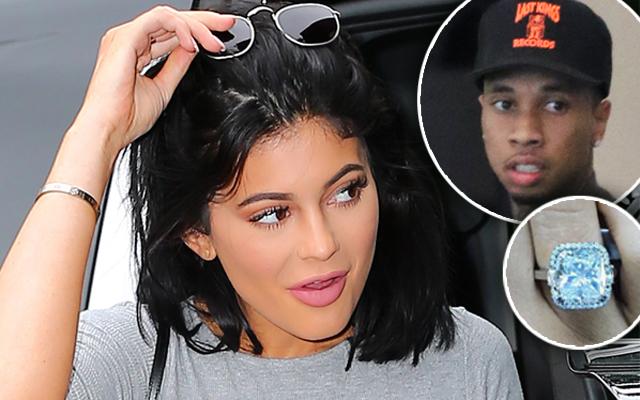 Most people would be thrilled to get a huge diamond ring from their significant other for Christmas, but Kylie Jenner is NOT like most people.
RadarOnline.com exclusively learned from a source close to the 18-year-old Keeping up with the Kardashians reality star that the diamond ring she received from her boyfriend Tyga has caused more problems that it was worth. And now, their already troubled relationship is on even shakier ground.
Article continues below advertisement
"Kylie's family do not know where Tyga would have gotten the money for that ring," the insider said. "They advised her to get it appraised because they think that it could be fake."
However, although the plastic princess's family suspects the ring may not be authentic, Jenner "refuses to get the ring appraised," said the source. "She is terrified to find out the truth."
As Radar previously reported, it is not only the ring's value that is causing problems for the young superstar couple.
The day after Jenner boasted about her present on social media, Tyga's transgender former fling, Mia Isabella, took to her Instagram to suggest that the 26-year-old bad boy rapper got her the same present while they were allegedly hooking up. (Tyga denies any relationship.)
"Of course Mia caused a fight between Kylie and Tyga," the source told Radar. "These days it seems like everything causes a fight between them."
"Kylie is just so overprotective of him. Even when she doesn't want Tyga, she still doesn't want anyone else to have him," added the source.
"Tyga told her that Mia was absolutely lying and that he never bought her any jewelry, yet alone a huge diamond ring."
Do you think that Kylie Jenner should break up with Tyga and start the new year fresh? Tell us your thoughts in the comments below.