Kylie Jenner Accused Of Ripping Off Lip Kit Formula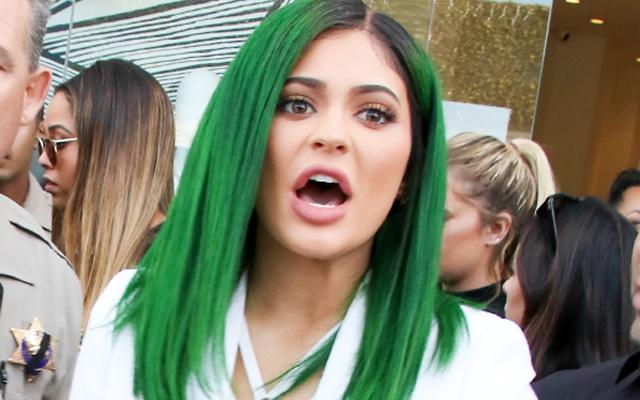 Kylie Jenner has admitted her own lips are fake after years of insisting they were all natural. And now, she's being accused of lying about her lip kit too! RadarOnline.com has learned that critics have accused Keeping Up with the Kardashians star of using another brand's formula for her new lip line, and merely slapping her name on it.
Jenner's $29 lipstick and liner, now selling for upwards of $10,000 on eBay, came under fire almost immediately after the release.
Article continues below advertisement
In several now deleted tweets, YouTube makeup tutorial star Nikkie Tutorials dropped a bombshell claim that the 18-year-old actually just worked with a company to rebrand makeup that normally only retails for $6.
"Been told Kylie's kits are rebranded ColourPop liquid lipsticks sold for $29," the blogger wrote. "A little birdie told me Kylie's lip kits are just rebranded ColourPop liquid lipsticks sold for $30."
http://i.imgur.com/vmjbmSk.jpg
Dozens of other Twitter users also were quick to point out that Kylie's three colors—Candy K, Dolce K and True Brown K—are similar to the ColourPop colors (Clueless, Beeper and Limbo) which retail for just 1/5 of the price, and come in nearly identical packaging.
http://i.imgur.com/fyJbTqO.png
Jenner has not revealed who she collaborated with to create her Lip Kit, however, ColourPop is a company that works with Spatz Labs and Seed Beauty, incubators that provide products for individuals to rebrand and resell.
Article continues below advertisement
And while it is a common practice to rebrand products and sell under another name, Jenner denied claims she ripped off ColourPop when she posted photos of herself at company the headquarters, with her momager Kris Jenner.
She wrote: "hanging out with the owners at @colourpopcosmetics we don't have the same formula or exact colors but they are my friends and they do have some bomb ass products that I love."
The 18-year-old mogul has spoken in depth about how she's spent months creating products for her fans to achieve her enviable large lips, which she later admitting to plumping using lip fillers.
"This was a long process but an amazing one," she wrote on Instagram. "Visiting the factories and sitting in the chem room creating the perfect colors and formulas for you guys."
"I am super invested," she told Yahoo Beauty. "I have been going to the factories, making the shades perfect, because I'm super particular about my lip color. I wanted to make three perfect shades to start off."
Would you buy Jenner's lip kits? Let us know in the comments!