More Dark Secrets: Kristin Cavallari's Brother Arrested For Two DUIs, Theft Prior To Disappearance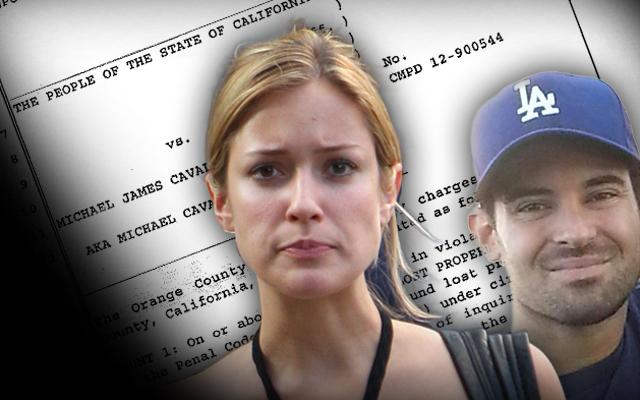 Kristin Cavallari's missing brother has a history of criminal behavior that spans longer than just this past year.
Michael Cavallari, who as RadarOnline.com reported, was jailed in Orange County, California, for threatening a woman with a gun just days before his November 27 disappearance, was previously arrested for petty theft in 2012, and DUI in 2013 and 2014, Radar can exclusively reveal.
According to Orange County Superior Court records obtained by Radar, the 30-year-old San Clemente native was charged with one count of petty theft, a misdemeanor, when he allegedly pocketed a woman's lost property worth approximately $400 on July 25, 2012.
Article continues below advertisement
READ THE SHOCKING COURT DOCUMENTS
He was arrested and thrown in jail two days after the incident.
Though he originally pled guilty, Michael hired hot shot Laguna Beach lawyer David J. Salvin, and proceeded to withdraw the guilty plea. The case was eventually dismissed.
Michael didn't stay out of trouble for long. A year later, he was arrested in Overland Park, Kansas, for DUI and refusal to submit to a breathalyzer test.
He was pulled over in the wee hours of June 15, 2013, while cruising down a city street, Overland Park Police Department records indicate.
The current status of the case is unknown.
Another year, another arrest. On March 27, 2014, Michael was arrested again for two counts of DUI in California, Orange County Superior Court documents prove.
His blood alcohol level was more than twice the legal limit.
"Defendant…unlawfully had a concentration of alcohol in his blood of .15% and more by weight," the district attorney alleged.
Article continues below advertisement
In this case, Michael faced consequences for his actions. He pled guilty to one count of DUI, and was sentenced in November 2014 to one day in Orange County Jail and three years of probation.
He had a hearing in the case on November 25, 2015, seemingly related to a probation violation from his November 23 arrest on making criminal threats, but it was abruptly canceled.
Michael went missing just two days later, after a surveillance video filmed him in a Monticello, Utah, gas station.