Back To Werk! Inside Kim's Desperate Plan To Lose Her Baby Weight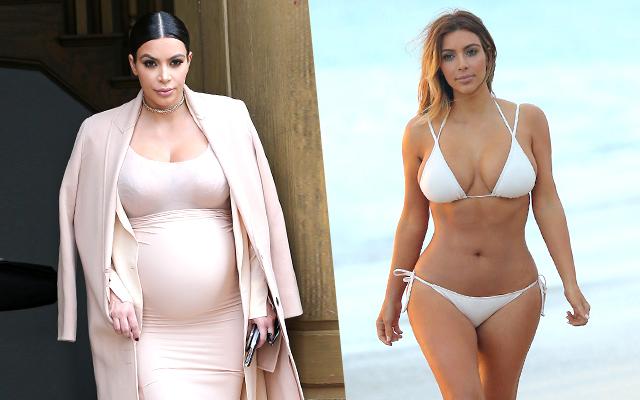 One week after the birth of Saint West, Kim Kardashian is already looking forward to getting back to work — in the gym, that is!
"Kim is never as motivated to work out as she is when online trolls call her fat," an insider told Radar. "Being pregnant again has been such a huge blow to her self-esteem that she will do anything to get her body back in shape."
"She cannot stand when her sisters get more attention for being hot," the insider continued, "and seeing how Kourtney has transformed her body was hard to watch. Even though she needs to take it easy for now, she is ready to get back on the treadmill right away."
Article continues below advertisement
So what's the plan? Her trainer Harley Pasternak previously told Radar, "Kim likes to walk, walk, walk walk. She likes to walk while on phone calls. She likes to walk with her sisters in the gated community, and she walks with North."
Although Pasternak likes Kardashian to take 10,000 steps a day, it is not only walking that will get her body back in fighting shape.
According to celeb trainer and nutritionist Charlene Ciardiello, Kardashian needs to "shut up and move!"
"Move it momma!" Ciardiello said. "Grab the kids and strollers and move. Go for a walk, jog around the neighborhood. Use your huge yard for workouts. You can even up the intensity with back yard sprints."
"But in order for her to keep that famous Kardashian booty, she will need to incorporate lots of squats into her daily life," Ciardiello continued. "Instead of taking the elevator in your new home, take the stairs. That will burn calories and tighten up her booty."
Article continues below advertisement
According to Ciardiello, who does not train Kardashian but does train a slew of A-list celebs, "Breastfeeding is a huge way for Kim to lose the weight, too. Breastfeeding burns between 600-800 calories and helps with weight loss immensely. I suggest breastfeeding for all women."
But for now, workouts can wait.
"Two of the most important things right now for Kim are to drink lots of water and get lots of sleep," Ciardiello added. "Drinking water before a meal will help her from overeating and will also give her that famous Kardashian glow."
Do you think that Kim Kardashian will have her hot body back in time for summer? Tell us your thoughts below.