Jennifer Jason Leigh Wins Award For Acting Role In The Hateful Eight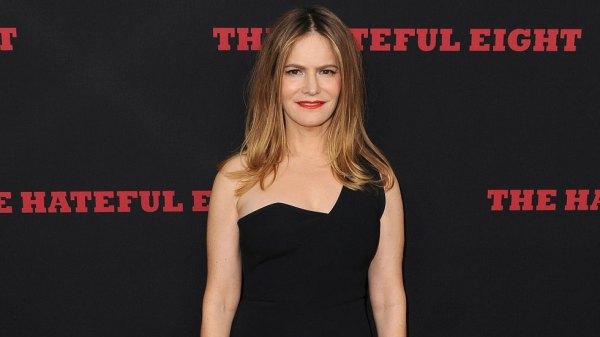 Jennifer Jason Leigh is starting out award season early with a win! The Capri-Hollywood International Film Festival has awarded the actress the prize for Best Supporting Actress for her role in Quentin Tarantino's newest film The Hateful Eight.
Jennifer has already earned a Golden Globe and Critics Choice nomination and has a win from the National Board of Reviews!
FILM REVIEW: The Hateful Eight Starring Samuel L. Jackson, Kurt Russell & Channing Tatum
Article continues below advertisement
Leigh commented as she accepted her award on Dec. 29: "The experience of being in one of Quentin's films and a part of this phenomenal cast was rewarding in and of itself, but to be honored by such an incredible institution as the Capri-Hollywood Film Festival makes it all the more meaningful. Pascal Vicedomini and the entire organization have made this event a pillar of the awards season, and I am flattered beyond words to be recognized by them this year."
The Hateful Eight was released on Christmas Day to much praise. It also stars Kurt Russell, Samuel L. Jackson, Walton Goggins, Demian Bichir, Tim Roth, Bruce Dern and Channing Tatum.