Jenelle Reveals Strict Set Of Rules For Nathan's Visits With Son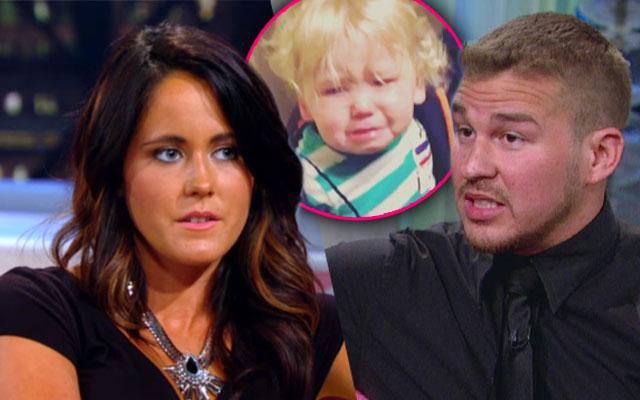 This holiday season isn't so joyful for Jenelle Evans' ex Nathan Griffith.
As RadarOnline.com exclusively reported, Griffith, 24, is begging to see their 17-month-old son Kaiser for Christmas, but Evans, 24, has been holding the boy back from his father.
Now, Radar has learned that Evans has put together a strict set of rules that Griffith must follow if he wants to visit with his son for the holidays.
Article continues below advertisement
"I have been telling him, 'You need to get a car seat. You need to get a car chair. You need to get your license back,'" Evans explained to Radar.
Evans also doesn't want Griffith to take Kai out of South Carolina.
"You can't take him out of state because that's what he did," she said. "He took him out of state and that's why I got mad. "
According to Evans, Griffith hasn't spent time with Kai since he took the baby to Boston without informing her.
"That was the last time he saw him at the end of October," she said.
Despite the on-going visitation feud, Evans said her relationship with Griffith is doing alright, and that they are trying to figure out their custody arrangements.
"It's good," she said. "We're in the process of coming up with a custody agreement."
But as Radar previously reported, Griffith claimed that Evans is using their son as leverage to get his girlfriend Jessica Henry to drop charges against her.
Article continues below advertisement
"Long story short, she'll let me see him if I get Jessi to drop the charges," Griffith said.
As Evans put it though, her attorney is the one who set that stipulation into place.
"My lawyer suggested that to him," she said. "My lawyer didn't even discuss it with me. My lawyer said, 'I think this is the only way you're going to get these charges dropped.'"
"I haven't spoken to Nathan about it, I haven't spoken to my lawyer about it, I don't know what's been said or what's even going on," she continued.
Evans added that jury trial in the case has been continued, but "there is no court day set yet."
In the meantime, Evans is spending the holidays celebrating with her new boyfriend David Eason and their children.
"I think we're just going to stay home with the kids, me and David," she said. "David's daughter is going to come over and stay the night. I'm going to have Jace and Kaiser, so it's going to be a really good Christmas. We want to stay home with all the kids and have a family day."
And her relationship with Eason is going "great."
"For once, I feel like I'm with a man and not a boy," she said. "We do everything together. He's a great father, he's a hard worker and I have nothing but nice things to say about him."