Charlie's Ex Threatens Suicide Amid HIV Drama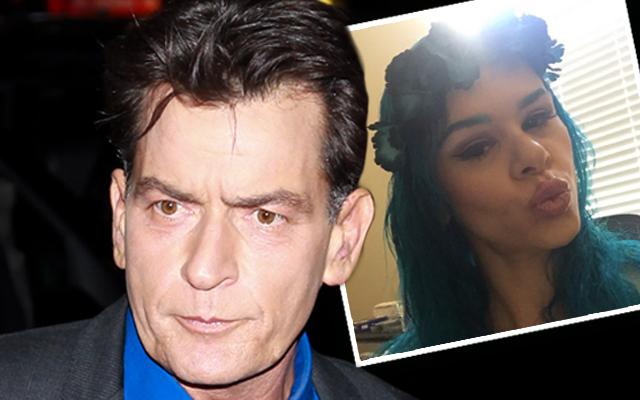 Charlie Sheen's destructive lifestyle has nearly claimed another victim. The actor's ex, porn star Elizabeth "Sara" Bentley went on the social media site Periscope to warn fans that she was going to smoke pot and drink Drano in a desperate suicide bid.
Bentley's twitter account was immediately inundated with those concerned about her confession after the video posted online.
"We saw your Periscope," wrote one person. "Please let us know you're ok. I used to think there wasn't hope for me either. There is."
Article continues below advertisement
Another wrote, "Sara I hope you're ok and you didn't do what you said you were going to do. There's still art to make. Don't go."
According to reports, Bentley recently admitted that she had sex with 50-year-old Sheen on several occasions but didn't know his HIV status. However, Bentley insisted she wasn't concerned that he had the disease since they were always safe. She also admitted to taking several HIV tests since their fling ended, which were all negative.
After Bentley's troubling Periscope video surfaced, it has been determined that she is currently doing okay.
"Yes, good news. She is okay as in physically okay," said Rachel Oberlin of Bentley, who was "ready to drink a bottle of Drano," in a follow-up Periscope video. "I'm so glad that she reached out and talked with me."
"I had no idea that she had any correlation with this Charlie Sheen thing and as much as I'm really sad that it happened and this was unfortunate circumstances," said Oberlin. "I don't feel like everything happens for a reason, but sometimes you can't help but think that."
"This goes to show people how much this has affected people," Oberlin continued. "This poor woman has been completely victimized and ostracized to the point where she felt she had no way out other than to end her life."
If you, or anyone you know, is struggling with thoughts of suicide, please immediately seek help — you can speak with a skilled, trained counselor at a national Suicide Prevention Lifeline crisis center in your area, anytime 24/7 — call 1-800-273-TALK (8255).