Brad Pitt & Angelina Jolie: The Epic Fight That Could Be Their Last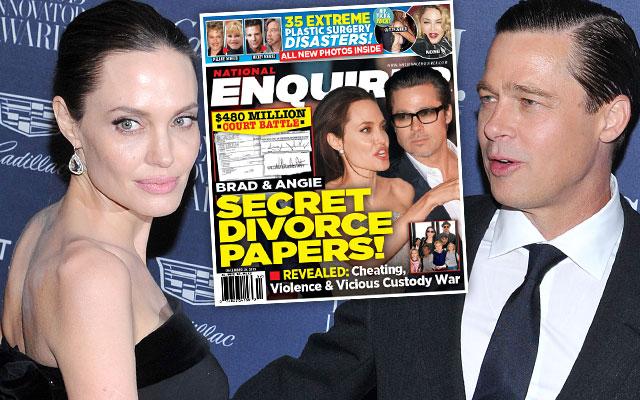 Brad Pitt and Angelina Jolie's happily ever after may be coming to an end very quickly.
The new issue of The NATIONAL ENQUIRER reveals that on Dec. 5, the world's most famous couple got into a battle so epic that it could very well be their last.
Pitt's marriage to Jen Aniston came to an end after he met Jolie on the set of Mr. & Mrs. Smith — and now, the 52-year-old actor has flown halfway around the world to confront Jolie in Cambodia about her own possible infidelities.
Article continues below advertisement
According to a source, just six days after their war, a "clearly upset" Jolie, 40, stormed out of the country dragging their six children with her.
Pitt himself has been accused of his own affairs, with both men and women.
The NATIONAL ENQUIRER has now obtained divorce papers which could tell what's in store for the couple's future.
With a net-worth of $480 million dollars, it could turn into a vicious court brawl the likes of what the world has never seen before.
For the full story on Brangelina's shocking divorce, pick up the new issue of The NATIONAL ENQUIRER now!