Bobbi Kristina's Memory Tarnished By Nick's Creepy Card & Aunt's New Rant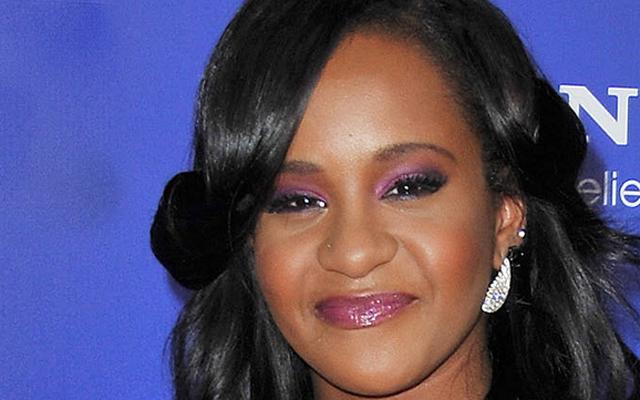 It was the Houston and Brown families' sad first Christmas without Bobbi Kristina. And to celebrate, her wacky family members and ex-boyfriend all dredged up memories of Whitney Houston's beloved late daughter.
Nick Gordon, who may face murder charges in her death, posted a creepy Christmas card about his late girlfriend.
In the photo Bobbi Kristina is sitting on his lap with her right hand on his leg and her left hand prominently displaying the giant ring she wore before her death. He photoshopped Santa hats on them both and put presents around them on the card.
Article continues below advertisement
"Merry Christmas," is the only wording on the card.
Bobbi Kristina's Aunt Leolah was also drumming up old arguments as the holiday approached.
She changed the name of her Facebook page to "Leolahfightsforbobbikandwhitney," and made her post picture a black and white shot of Whitney, Bobby and baby Bobbi Kristina.
"They say, keep your enemies close that you may see far. I say, keep your enemies afar that you may closely see...," she wrote as a warning to her followers.
MORE ON:
Bobbi Kristina Brown
After a six month coma, Bobbi Kristina passed away on July 26, 2015, following an incident in her Atlanta home where she wound up face down in a bathtub, eerily similar to the way he mother, Whitney Houston, died.
Leolah stormed out of the funeral, and released a statement slamming the rest of the family.
"I, Leolah Brown was the only one that Whitney left guardianship to when it came to Bobbi Kristina. This is the main reason Pat hates me! Time is out for LIES! The Brown & Houston family knows I am telling the truth. But there is a reason why I never fought her grandmother Cissy (Houston) on that."
And on December 17, 2015 Bobby Brown and his wife Alicia Etheredge were spotted doing some last minute shopping before their first Christmas without Bobbi Kristina.
What do you think about Bobbi Kristina's loved ones' Christmas tributes to her? Sound off in comments below.