Billy Brown And His Family Hunt For Gold On 'Alaskan Bush People'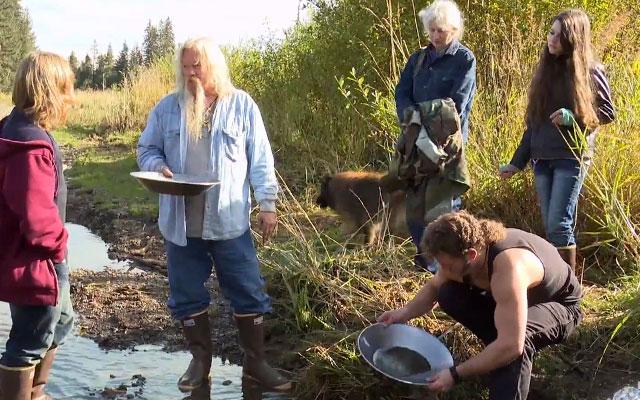 It's time for some family bonding time… bush style.
In a preview for the upcoming Alaskan Bush People special, Billy Brown and his family head on down to a creek to do some gold mining.
As the family begins to pan for the gold, Bear asks his father about the first time he saw gold taken out of the ground, which leads Billy to share a story about his first mining experience.
"I was with two real miners," Billy, 62, told his sons. "I'm talking crusty old miners. The one who had taken me up here, heard that I was trustworthy, wouldn't tell anyone where the mine was, and I needed work."
Article continues below advertisement
During this trip, Billy questioned the miner about how to tell real gold from fool's gold.
"He kind of got this look in his eye and went, 'I will be right back,'" Billy said.
The miner than gave Billy a piece of real gold to hold.
"He started dumping in nuggets thumb size," Billy recalled. "He filled my hands up. They overflowed. He just kept dumping it."
"There's no way you could ever forget what it's like to hold a real nugget and there's no way you would ever mistake it for Pyrite or anything else again," he continued.
After that experience, Billy developed an addiction for gold.
"I was infected," he stated. "Gold fever was there."
Because of his gold obsession, Billy has befriended some interesting characters like Cowboy Dean.
"There is a certain breed of people that can live in the bush alone without families or anything," Billy explained of his pal. "It takes someone who is extremely independent to start with, maybe a little hard to get along with… They are like us. They chase gold, they chase trees, they chase fish. But in reality, they're chasing a living in freedom."
Be sure to tune into Discovery to catch the new Alaskan Bush People special when it airs on Wednesday at 8 PM ET.
: