Robin Williams' Widow Susan: Lewy Body Dementia Killed Beloved Star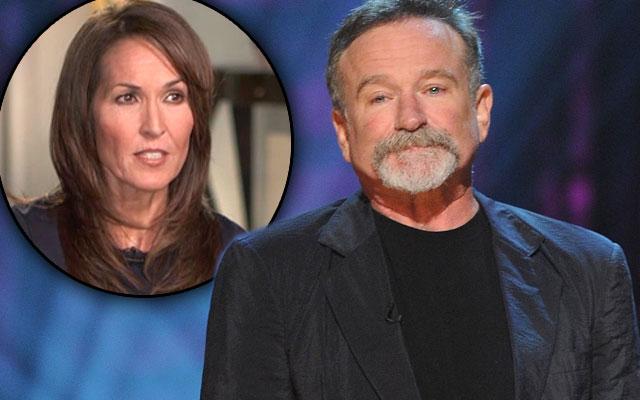 Robin Williams' widow Susan Williams publicly opened up for the first time since the actor's Aug. 14, 2014 suicide Tuesday, speaking out about how she doesn't blame him, and how she feels Lewy Body Dementia was at the heart of his decision to end his life.
Susan said the Mrs. Doubtfire star, who tragically took his own life Aug. 11, 2014 at the age of 63, was badly struggling with his health and "would've had maybe three years left" of life left if he "was lucky" with his deteriorating physical condition.
Article continues below advertisement
Watch the video on RadarOnline.com
"And they would've been hard years," the Oscar-winning star's wife of three years said, noting that the beloved star was "just disintegrating" before her eyes.
She said that they "were living a nightmare" with his health downturn.
Susan said the day he took his own life, she couldn't initially see him, as emergency crews worked on the actor.
"I just wanted to see my husband. And I got to see him ... and I got to pray with him," she said. "And I got to tell him, 'I forgive you 50 billion percent, with all my heart. You're the bravest man I've ever known.'"
She said that the actor, who had a brief stint in a rehab facility prior to his suicide, "was completely clean and sober when he died," coping with paranoia, depression and anxiety with a regimen of antidepressants he'd been prescribed a few months before.
"What was overriding that more than depression was anxiety –– and the anxiety was huge."
She said that in six months before his death, Williams was beset by an ailment so severe he couldn't leave the family home.
Article continues below advertisement
"He said to me, he said, 'There's something really wrong with me.' I said, 'I know, honey. I know there is. And we're going to get to the bottom of this. I swear. We're going to figure this out,'" she said. "And inside my mind for the first time, I started to wonder, 'Are we?'"
Susan said that she and the late star was told he had early Parkinson's disease that May, and that he was not suicidal upon hearing the news.
"I mean, he was sick and tired of what was going on, absolutely … and when he got the Parkinson's diagnosis, you know, I mean, in one sense, it was like this is it. This is what we've been — we've been chasing something, now we found it.
"And we felt the sense of release and relief. But also, like, 'Oh, my god, what does this mean?' OK?"
Following his death, a report from the coroner indicated Williams was afflicted with Lewy Body Dementia, and after she read up on it for the better part of a year, she knew that the symptoms had matched what he was going through, most notably poor vision and a lack of perception physically.
Article continues below advertisement
"Lewy Body Dementia killed Robin ... it's what took his life ... and so now, over a year later I totally get it," the widow said. "I get it, honey. I totally get it. I don't think he was trying to hit his head on the door. I know that's right. And I know he was angry with himself and he was fed up with this and he was expressing anger."
She said that the lack of control over his fate was one of "many reasons" the legendary actor decided to take his life.
"Believe me: I've thought about this. Of what was going on in his mind, what made him ultimately commit — you know, to do that act. And I think he was just saying, 'No.' And I don't blame him one bit. I don't blame him one bit."
Susan said of her seven-year relationship with the Good Will Hunting star: "It's the best love I ever dreamed of.
"You know, it's what I always dreamed of love would be … really based on just honor, love, respect."