Leah Remini Is 'So Grateful' To Jennifer Lopez For Having Her Back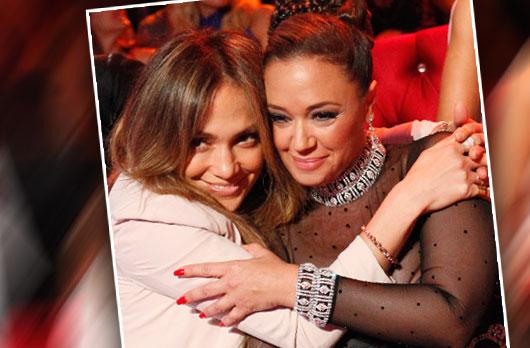 Leah Remini says she's "so grateful to" Jennifer Lopez for providing her with the support and friendship during her ugly and public split from Scientology two years ago.
"She doesn't judge," the King of Queens star, 45, told People. "She told me to keep the good things and move on with love."
The outspoken Remini said she was a bit concerned, as Lopez's father David is still linked to the church, but that the "On The Floor" singer "didn't waver in our friendship" throughout the past two years, in which both the actress and the church have exchanged raw and piercing barbs.
Article continues below advertisement
Remini told the magazine that church officials used her to invite Lopez and (now-ex) Marc Anthony to Tom Cruise's 2006 wedding to (now-ex) Katie Holmes "on Tom's behalf," but kept trying to get between them at the actual affair.
"I could only conclude," Remini said, "that it was part of an attempt to perhaps recruit her and Marc."
The church, in response, denied that it had Remini acting on its behalf in the Lopez invite, and that Remini had actually spoken negatively of the singer in private.
"The Church does not single out anyone for its services, while its doors are open to all to make the able more able," the church told the magazine. "The Church has not cared that Ms. Lopez was Ms. Remini's friend. The only dealings the Church had with Ms. Remini with regards to Ms. Lopez was having to listen to her complaints about Ms. Lopez."
As RadarOnline.com previously reported, J.Lo last year said that she was extra sensitive to Remini, as her pal was breaking off with the church after more than 35 years of involvement.
"It was a tough moment for her. You know what I mean? It's all she knew her whole life," Lopez told Ellen DeGeneres. "When you're raised a certain way and around people for a long time — whatever that is — it's going to be hard."
Remini's book Troublemaker: Surviving Hollywood and Scientology is available in stores now.