Exclusive
Top Hollywood Lawyer: Sheen Had Sex With Partner Last Week, Didn't Disclose HIV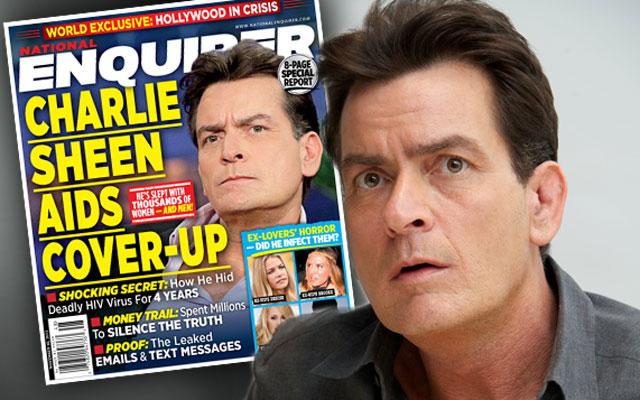 By DYLAN HOWARD & MELISSA CRONIN
Charlie Sheen's HIV cover-up continues to unravel! The National ENQUIRER and RadarOnline.com have learned that not only did the actor knowingly expose sex partners to the potentially deadly virus, but also, there are new claims that he continued to do so as recently as last week.
A source close to a top Los Angeles attorney told Radar that four new potential victims have emerged since The ENQUIRER and Radar exposed Sheen's HIV cover-up. "One person claims that Charlie had sex with them just last week," the source told Radar. "He didn't tell them he was HIV positive."
Article continues below advertisement
"And a second individual claims they had sex with Charlie three weeks ago," the insider added.
"All of these people say they were not notified by Charlie about his HIV status and now they want settlements."
As Radar reported, a source at the LA County DA office told Radar that Sheen, 50, could now be facing criminal charges in addition to these potential civil cases.
Said the source, "If an alleged victim comes forward claiming Charlie Sheen had unprotected sex with them, without notifying that person about his HIV status, it will be completely and fully investigated."
"The victim doesn't need to contract HIV for prosecution to take place," the source explained. "These cases are taken very, very seriously and any alleged victim's identity will be protected."
Sheen's ex-girlfriend Bree Olson told Howard Stern Tuesday morning, "Charlie told me, 'I'm clean!'"
"It's a crime!" she said, in California, not to disclose an HIV-positive diagnosis to a sex partner.