Exclusive
No Shame! Charlie Sheen Spent $1.6M On Hookers In A Year While HIV Positive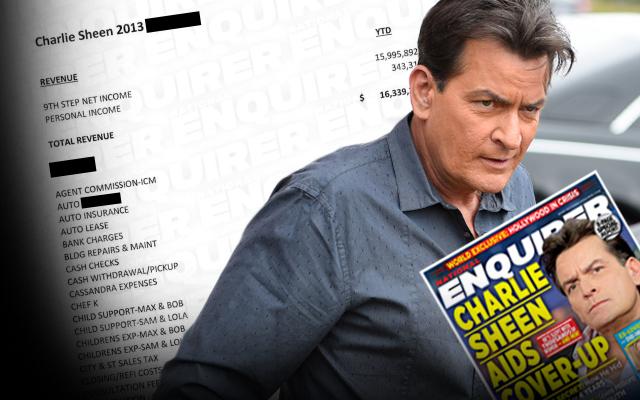 Charlie Sheen's HIV diagnosis sent him into a sordid downward spiral of addiction to drugs alcohol and sex, and RadarOnline.com has revealed the proof of just how bad it became. According to Sheen's financial records, provided by The National ENQUIRER to RadarOnline.com, he spent more than $1 million on sex workers in one year alone — while he was HIV positive!
The sex-crazed actor claims he was diagnosed with the deadly illness in 2011, but the dire news hardly slowed his horndog ways. According to 2013 financial reports for his production company 9th Step — prepared nearly two years after he says he found out he was infected — he spent $1,629,507 on hookers.
Article continues below advertisement
According to an insider close to Sheen, "The item was listed as 'Friendly Entertainment,' which was Charlie's shorthand for sex workers." There's no mention of how many women, or men, that covered — and whether he told them of his HIV status.
The report also claims that he spent $497,000 on child support for six-year-old twins Max and Bob, born to ex-wife Brooke Mueller, and $550,000 that year for daughters Sam, 11, and Lola, 10, born to Denise Richards.
His chef made $416,215, the report states, and he spent $130,000 on parties, $105,835 on hotels, and $136,856 on clothing.
It wasn't all a life of debauchery, however: He also spent $188,700 on charitable contributions.
As RadarOnline.com reported, Sheen, 50, supported many AIDS-related charities during the years in which he was desperately shelling out thousands to stop the world from learning his HIV secret.
Article continues below advertisement
The National ENQUIRER exposed his extensive cover-up on Monday, and the actor confirmed the news Tuesday morning on the TODAY show.
Sheen has claimed he never failed to warn potential partners of his status, and said it's "impossible" that he infected anyone. But ex-girlfriend Bree Olson told Howard Stern Tuesday morning that he used lambskin condoms while sleeping with her, and she feared she'd been infected before testing negative Monday.
Sheen's rep later said he was diagnosed after his relationship with Olson, but an insider at the LA County DA Office told RadarOnline.com it's still a possibility that the actor may face a criminal investigation.