Housewife Vicki Wants Restraining Order Against Ex Brooks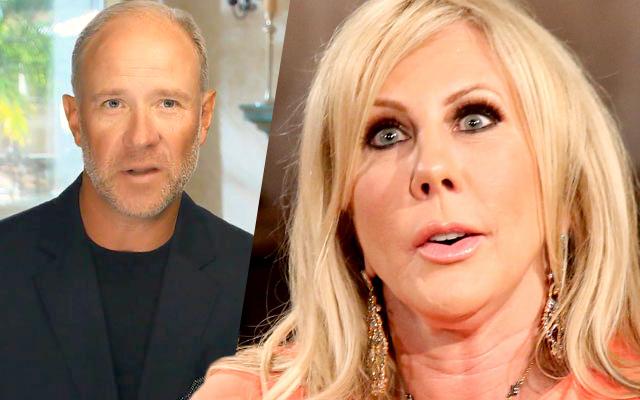 Brooks Ayers is threatening to sue Vicki Gunvalson and her daughter, but RadarOnline.com has learned he could be the next one to get legal papers! According to an insider, Gunvalson is telling close friends she is afraid of Ayers, and is considering getting a temporary restraining order.
The insider said that Gunvalson has claimed he was caught near her business during a recent trip to Southern California.
Article continues below advertisement
According to a Real Housewives of Orange County insider, "Vicki was telling the ladies off camera during the reunion she was absolutely terrified of Brooks and is considering a restraining order."
"She claimed that Brooks had been sitting in a rental car outside of her insurance business, and Vicki said he almost seemed to be taunting her."
Ayers confirmed to Radar, "I was at the building where Vicki works because my attorney is there also. I could see how that could get misconstrued, but there was nothing else than that. Vicki and I are on civil terms."
Still, the insider said she feels unsettled. "She is thankful to live in a gated community but she just doesn't know what to do about Brooks," the source claimed.
And so far, she's tried to play the polite route."Even though she claimed to no longer be talking to Brooks at the reunion, she was texting him that day!" the source said. "The other ladies pointed it out, and they helped her to block his number for her phone. But that only lasted a few hours. Vicki doesn't want to anger Brooks, so she is continuing to take his calls. She doesn't know what to do."
Article continues below advertisement
Meanwhile, Gunvalson's antics this past season have her costars wanting her fired from the Bravo franchise.
"The ladies want to gang up and try and get Vicki ousted from the show. They think they would fare better if they all were together in trying to get rid of her," a second source claimed.
After spending the last season fighting with both Tamra Barney and Shannon Beador over the Brooks Ayers cancer drama, Gunvalson has been running short on allies on the show. But she does have Andy Cohen on her side. "Andy has always said that Vicki is his favorite Housewife out of them all," the second source admitted.
However, Vicki has an explanation for her erratic behavior this past season, blaming "the stress with constantly being harassed about Brooks' cancer diagnosis, and his drama," the source told Radar. "Vicki won't be leaving the show unless it's something she wants. At the end of each season reunion, Vicki always says this will be the last, but it never is. She can't stay away from the drama!"
Another source close to Gunvalson insisted she knew Ayers was visiting his lawyer at her building, and has never mentioned wanting a restraining order to friends.