Littlest Victims: Teresa & Joe Giudice's Devastated Daughter Audriana Begs Father Not To Leave For Prison-- 'Daddy, Don't Go!"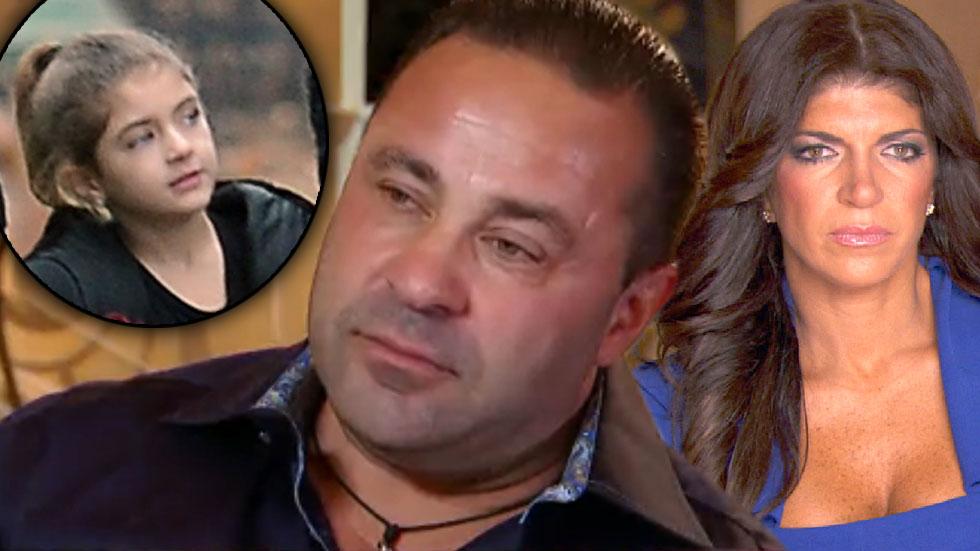 Joe Giudice may moan that he'll miss his beloved wine when he begins his 42-month prison sentence early last year— but his daughters are the ones who will really suffer with daddy away from home.
On last night's episode of The Real Housewives Of New Jersey: Teresa Checks In, fans learn how difficult life has been for Gia, 14, Gabriella, 10, Milania, 9 and Audriana, 6, with their mother behind bars, and just how terrified they are to watch their father leave for even longer.
Article continues below advertisement
The episode begins with aunt Melissa Gorga taking the girls to a nail salon for a little R&R and girl time.
Gia admits it's been "rough" without mom, and Gabriella reveals she's been responsible for all the housework.
"I just have to do it, I can't stand to see something dirty!" she says.
Melissa becomes teary-eyed by how strong the eldest Giudice daughters have been.
"They're just moving on with their lives," she tells the cameras.
And though she vehemently denied to dad that her dance date, Dante, was her boyfriend last week, Gia comes clean to Melissa: They're dating!
Meanwhile, Joe shares some guy talk with Melissa's husband, Joe Gorga, during a workout session.
The outspoken brother-in-law asks if Joe and Teresa have been talking dirty over the phone.
"Nah, we just email nasty things back and forth, whatever I'm gonna do to her when she comes out, what she's gonna do to me," Joe answers, later adding that he pleasures himself twice a week. TMI!
Article continues below advertisement
Next, Teresa's lawyer, James Leonard, visits Joe at home where they chat over a bottle of red wine. (The father of four, who unsuccessfully asked the judge to send him to rehab in lieu of prison, is seen boozing in nearly every scene.)
The attorney and family friend presents Teresa's prison diary, which she mailed in order for publishers to turn the writings into a tell-all book.
He says readers will be shocked by how crazy life has been in the federal prison.
"One night, she's breaking up a fight between two girls," James marvels while glancing through the pages. "Seems like she's got everybody's respect in there."
He also says Teresa wrote that she was so excited to see her husband during one visit, she paid a fellow inmate to style her hair curly, Joe's favorite look.
"She said it's worth it because you told her how pretty she looks," the lawyer recalls.
Article continues below advertisement
Despite his bad boy behavior while Teresa sits behind bars, Joe says she's 100% dedicated to the marriage: If he gets deported to Italy after he completes his sentence, he says, Teresa and the girls will accompany him to the home country.
Later, the Giudices and Gorgas head to their Jersey shore house to celebrate 4th of July weekend. (Sadly for the girls, the house has since been sold at an auction.
Joe makes a joke about his upcoming prison sentence to Gia in the car, surprising Melissa.
"Even before my mom went away, I told my parents, be honest with me. I wasn't going to accept any BS," she tells her aunt.
And while Joe claims in the episode that his youngest three daughters don't really know what is going on with their parents' very serious legal troubles, his eldest confesses that even the happy-go-lucky Milania knows the devastating truth.
Article continues below advertisement
"Gabriella knows what's going on. She's so mature for her age," Gia tells the cameras. "People think Milania is stupid..but she knows what's going on."
But they certainly don't know everything.
While enjoying the gorgeous summer weekend, Joe sits down for a tough talk with his girls.
"Next year, I'm gonna be working. Mommy's gonna be here," he says, fibbing to his daughters. "A couple years I'll be back, and then we'll do it again."
Clearly, this is all news to a heartbroken Milania.
"Dad, did you just say a couple years?" she asks frantically.
"Daddy, don't go!" Audriana begs.
Back home, Teresa calls with news she's been strip searched. As RadarOnline.com reported, the reality star was accused of sneaking a cell phone into prison after Gia tweeted a message to fans from her mother's account.
Later, Joe heads to New York City to meet with Little Italy restaurateur Angelo Lutz, who served seven years in federal prison for gambling.
Article continues below advertisement
Joe is thrilled to learn that some men make their own wine while locked up, but becomes horrified when Angelo tells him many men neglect to groom and act like "cavemen."
To Joe's surprise, Angelo reveals that the toughest part about prison is after the time is up.
"What's going to happen to you when you come home?" he asks. "I came home to absolutely nothing, with the odds stacked against me."
Joe replies he plans to work— but doesn't have a clear answer.
"I'm happy that I met this guy Angelo," he says later in a confessional. "I'm ready to get it over with...and get on with my life."
Should Joe be honest with his daughters about his upcoming sentence? Sound off in the comments.