Baptized To B*tchy! Tamra Judge Slams 'Backstabbing' Vicki Gunvalson As A 'Bad Friend:' 'I've Cut Her From My Life'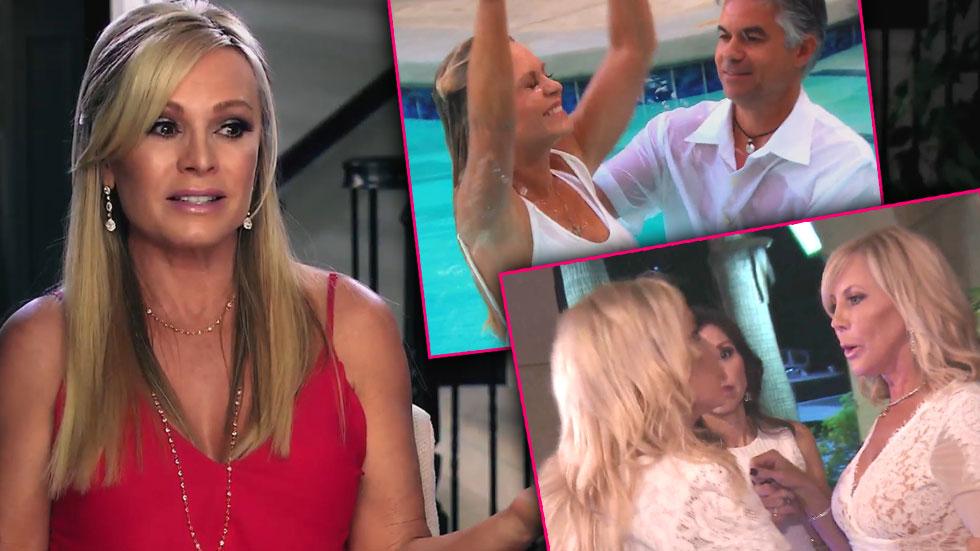 After the Real Housewives of Orange County aired its explosive season 10 finale on Monday, Tamra Judge opened up about her emotional baptism and the 'Wives' ongoing feud with Vicki Gunvalson.
In a new Bravo blog, the 48-year-old gushed over her special ceremony, where she was surrounded by friends and family as she confirmed her faith.
"Having all my friends there was a beautiful experience and I thank every one of you for your support," Tamra wrote in her blog post. "They were not able to show my whole speech so I wanted to share it with you."
Article continues below advertisement
But the reality star quickly moved on to, as Vicki eloquently put it, "Satan's work," dishing on the RHOC vet's epic fight with former BFF Shannon Beador.
"Vicki claims that she is most hurt by Shannon because she was closest to Shannon," Tamra explained. "Hmmm, so why did Vicki choose me to look at Brooks' scan? Oh that's right because..."Tamra is closest to me" (her words), which one is it Vicki?"
"I'm starting to think that Vicki just says what's good at the moment," she continued. "So many contradictions!"
Then, Tamra moved on to slam Vicki for her now-ended relationship with controversial boyfriend Brooks Ayers.
"What really upsets me is that Vicki made it her job the past three years to try to make ME out to be the bad guy because I didn't trust Brooks. She warned every new Housewife to watch out for me and that I was a backstabber and a bad friend."
Article continues below advertisement
But this time around, Tamra will wait for the truth to reveal itself (get ready for that reunion special!).
"In the past if I knew you were lying or a fake I would expose you like a bad pair of shoes. Now a days I have learned that the truth always comes out and it's not my job to prove it," she wrote. "As far as I am concerned I am not the backstabber or the bad friend Vicki, YOU ARE! There is nothing worse than covering for a man that is lying about something as serious as cancer and especially to the extent it was taken too."
Meanwhile, Vicki continues to blame her costars for "abandoning" her during her recent breakup with Brooks.
"I've had two huge losses this year," she told Andy Cohen on Watch What Happens Live this week, referring to the death of her mother and her recent split. "And they're not there for me."
What's more, Vicki even called out her O.C. cast mates in a recent Instagram post, making it clear that she's not even trying to play nice anymore.
"Surrounding myself with the original HW that actually is not evil," she captioned a photo, adding the hashtags, "#friends, #wantthebestforeachother, #family, #workingwomen, #bothsinglenow."
https://instagram.com/p/819wNiLZEI/?taken-by=vickigunvalson
In the end, Tamra explains that she wishes the best for her costar, but for now she's "cut Vicki from her life."
"I just can't do this anymore, it's emotionally exhausting and I don't trust her," she concluded. "All I wanted was to be there for her and everyone in my life warned me (even my husband) that Vicki is out for one person and one person only and that is...VICKI GUNVALSON!"