Faking The Feud! 'RHOC' Star Vicki Gunvalson's Real Issue With Shannon Beador Revealed -- 'Nothing To Do With Brooks'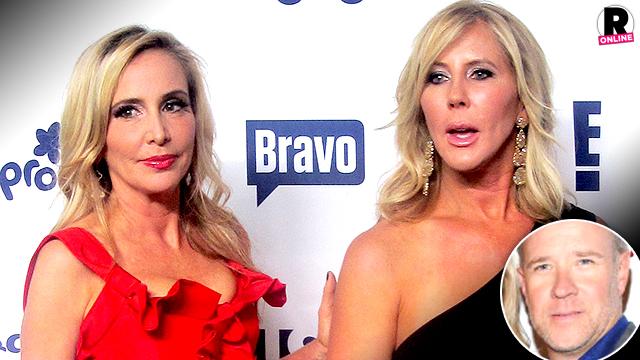 Things aren't quite what they seem, yet again, for The Real Housewives of Orange County!
For almost half of the current season of Bravo's hit show, veteran housewife Vicki Gunvalson has been at the center of the controversy surrounding her ex-boyfriend Brooks Ayers' alleged cancer diagnosis. Even though Gunvalson and Ayers are no longer a couple and he is not returning next season, the 53-year-old self-made millionaire has come under fire from her cast mates who insist that Ayers is lying about his disease.
Article continues below advertisement
But a source close to production for the show tells RadarOnline.com exclusively that the battle between bickering blondes Shannon Beador and Gunvalson actually has nothing to do with Ayers' cancer!
When asked in a recent interview what the finale of the show will be about, Shannon, whose husband David Beador's affair was exposed earlier this season, said, "I'm just gonna say, Shannon vs. Vicki."
She also claimed that her and her former BFF Gunvalson had "hardly spoken." But according to the source, that is not the real truth at all.
"Shannon and Vicki are totally on speaking terms and Shannon knows the real reason that Vicki has a resentment towards her. And it has nothing to do with Brooks," says the source.
"Basically, Vicki told Shannon that when David cheated on her, although she didn't agree with her choice to work it out in the beginning, she stood by her and supported her because that is what girlfriends do."
"Vicki even stuck up for Shannon to the others on and off-camera," the insider tells Radar. "But when Vicki became the target of the other women, Shannon did not and this hurt Vicki because she expected the same support."
MORE ON:
Real Housewives of Orange County
Article continues below advertisement
What the viewers will not get to see, says the source, is that "Shannon told Vicki that she was sorry for not being there for her as much as she wanted her to be and that she loves her very much."
"Shannon also said that she doesn't give a sh*t if Brooks is lying or not, or even if he is sick for that matter," the source adds. "She told Vicki that she is just glad that Brooks is gone because he was dragging her down and everyone saw it except for her."
Neither Beador, nor Gunvalson, have confirmed whether or not they will return next season, but the outlook looks good, the source says, adding, "Both Vicki and Shannon have a very loyal fan base and they not going anywhere."
Do you think that Brooks Ayers' cancer should still be a topic on the show? Tell us your thoughts in the comments.