David Beador's Mistress Breaks Her Silence After Fight With Shannon At USC Game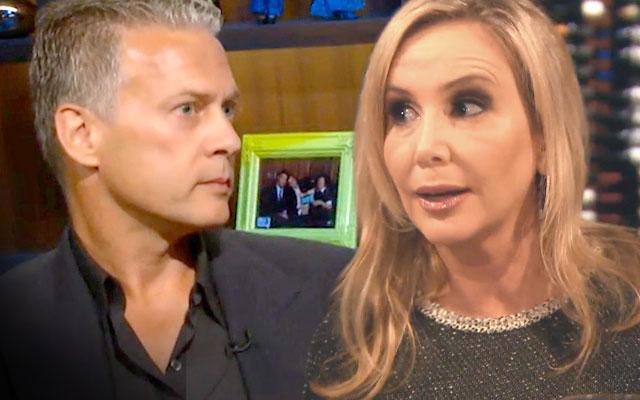 David and Shannon Beador's marriage woes have been front and center on this season of the Real Housewives of Orange County, with David's tale of infidelity playing out painfully before the cameras. But now, after Shannon came to blows publicly with the other woman at a USC football game, David's mistress Nicole McMackin has issued a joint statement with her husband addressing the affair for the first time.
Article continues below advertisement
"This has been an extremely trying time," Nicole and her husband Reed told Entertainment Tonight. "We have done our best to work through our issues in private. Nicole understands that she made a terrible mistake and there has been an incredible price paid by both families."
The couple is presenting a united front in the face of national scrutiny. "We want everyone to understand that we love each other very much, and that I have completely forgiven her," the statement read. "We have reached a place where we are moving forward as a family. We believe that our future can be one of happiness, and hope the same for the Beador family."
Still, despite that seemingly warm sentiment, the McMackins went on to slam the Beadors for letting the messy drama play out publicly. "It is extremely difficult to move forward with the constant attention drawn to this difficult situation by the Beadors," their statement continued. "As private citizens, it is difficult to see our pictures all over the internet, and have articles written about us... This kind of attention has been extremely trying not only to us, but more importantly, our two children. We have done our very best to keep our lives, and those of our children out of the public domain. We never have, nor will we ever seek out public attention about this very painful, private matter, and we are hoping that the Beadors, Bravo, and the other cast members will allow us and our children to live our lives in peace."
Article continues below advertisement
As RadarOnline.com reported, things got ugly Saturday when both women, wives of USC alums, ended up only a few rows apart at the football game -- and according to a source, the mistress is not as ready to move on as her statement says. "Nicole only started going to watch the games after her affair started with David. She got seats that were in front of theirs and Shannon thinks it seems like it was on purpose, so that David would have to see her every single time that they went!"
The continued contact has made it difficult for Shannon to heal, even after months of counseling. "Shannon is just so upset right now because this woman will not leave their world," the friend told RadarOnline.com. "She honestly does not know what to do. She knows that David has no contact with her anymore. But neither her nor David understand why she keeps popping up all over the place."