Oprah Confirms Bombshell Claims Of 'Secret Son'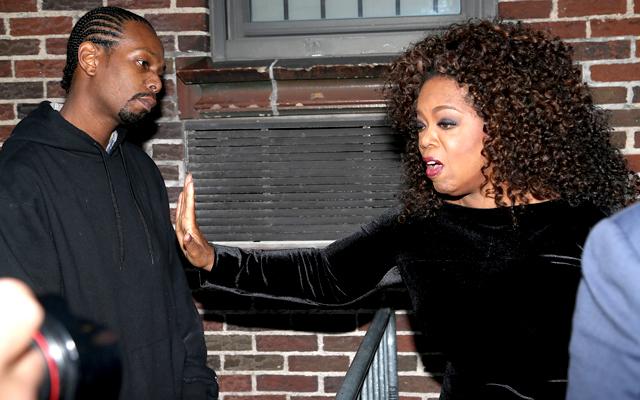 Oprah Winfrey spoke out today to confirm that she had a close relationship with "secret son" Calvin Mitchell, RadarOnline.com has learned.
"I met Calvin around the early '90s, I think it was 1992. I was doing a film for television called There Are No Children Here," Oprah confirmed to ET host Nancy O'Dell. "We were shooting in the projects in Chicago and I was sitting on set during a break, and this cute little sparkly-eyed boy came underneath the yellow tape to hand me a soda. I was so charmed by him that I started talking to him about his family, his school life, and found out that he was in a situation where his mother didn't have a job and they were stuck in the projects."
Article continues below advertisement
Winfrey said she took the tot under her wing, buying his family household items and putting him through school.
"I found a school in Mississippi that was a private boarding school because I thought if I could remove him from the environment that he'd been accustomed to growing up in, that maybe that would be helpful to him," she explained.
But by the time he turned 16, however, he was clashing with teachers at the school and decided to drop out, against Winfrey's wishes.
"I said, 'Calvin, this is the moment. This is a seminal moment for you,'" she explained. "'I know you are 16 and can't see the road ahead, but if you leave this school and refuse to get an education -- I have tried to offer you an education twice -- there isn't another school I can put you in. If you leave this school, I am done. There is nothing else I can do.' ... And that was my last conversation with Calvin in the early '90s."
Article continues below advertisement
As RadarOnline.com reported, Mitchell tried to reconnect with Winfrey outside of The Stephen Colbert Show earlier this month, a meeting that was almost successful.
"I could see the little boy in his eyes, even though time has changed a lot for him, and I said to him, 'What are you doing?'" she said.
"As I left, and he was looking so forlorn, he was like, 'Can I speak to you?' So I said to somebody on my team, 'Will somebody get Calvin's number so I can contact him later?'"
However, Winfrey claimed that once she saw he had shared his story with the media, she decided against contacting him again.
Mitchell, now a 35-year-old truck driver, recently came forward and told RadarOnline.com about their relationship.
"We had a close relationship," Mitchell said. "Oprah and Stedman were like family to me."
Since then, he said in the interview, he went into a deep depression and never quite healed after allegedly being abandoned.
A distressed Mitchell told RadarOnline.com on video: "I want to ask Oprah, 'Why did you leave me? Why did you leave me?'"