Truce?! Kim Kardashian Ready To End Feud With Amber Rose -- What Changed Her Mind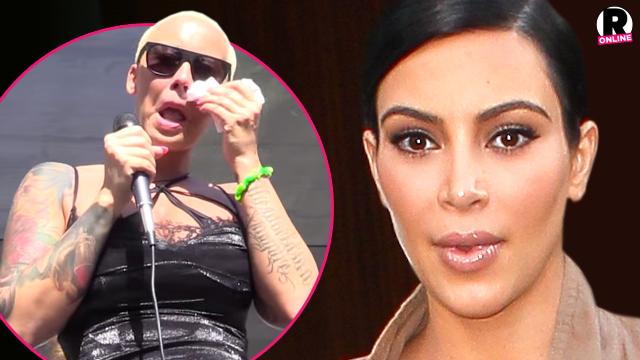 Reality TV's most epic feud could finally be coming to an end! RadarOnline.com has learned that Kim Kardashian is ready to mend thing with Amber Rose after the latter made a tearful public plea for peace this weekend in L.A.
Rose broke down in tears this past Saturday in front of thousands of supporters at the "Sl*t Walk" march through Los Angeles. She told the crowd she forgives Kanye West, who she dated just prior to West coupling with Kardashian, for saying hurtful things about her.
Article continues below advertisement
"Moving forward, I want to forgive Kanye for what he said about me," Rose said during the speech.
And Kardashian was more than willing to pick up Rose's olive branch.
"Kim really thought that this was a huge step forward because Amber did not use her platform to slam her," a source close to the KUWTK star tells RadarOnline.com exclusively. "And Kanye thought that it was a really nice gesture."
As RadarOnline.com previously reported, Rose's beef with the Kardashian clan goes further than just Kim though. Rose and Khloe Kardashian were recently in their own brawl over Khloe's younger sister Kylie Jenner's relationship with Rose's BFF Blac Chyna's baby-daddy Tyga.
According to the insider, both Kim and Khloe are now ready to move on and bury the ratchet hatchet.
"Now that the Kardashians see how much a huge fan base Amber Rose has, they have all kind of changed their tune," says the source.
"They know that Amber knows so much about them and their family and it is just at the point now where the Kardashians are ready to call a truce."
"If Amber Rose and Blac Chyna do their thing and just leave the Kardashians out of it, then they are cool," the insider adds.
"None of them want to keep facilitating this drama anymore."
Watch Amber Rose forgive Kanye West:
https://instagram.com/p/8bCYr7TLg1/
Do you think that Amber Rose and Kim Kardashian should be friends? Tell us your thoughts in the comments.