Fame Over Family? Kim Kardashian Fires At Caitlyn Jenner On 'KUTWK' For Slamming Kris In 'Vanity Fair' Interview: 'You Don't Have To Bash Us On Your Way Up!'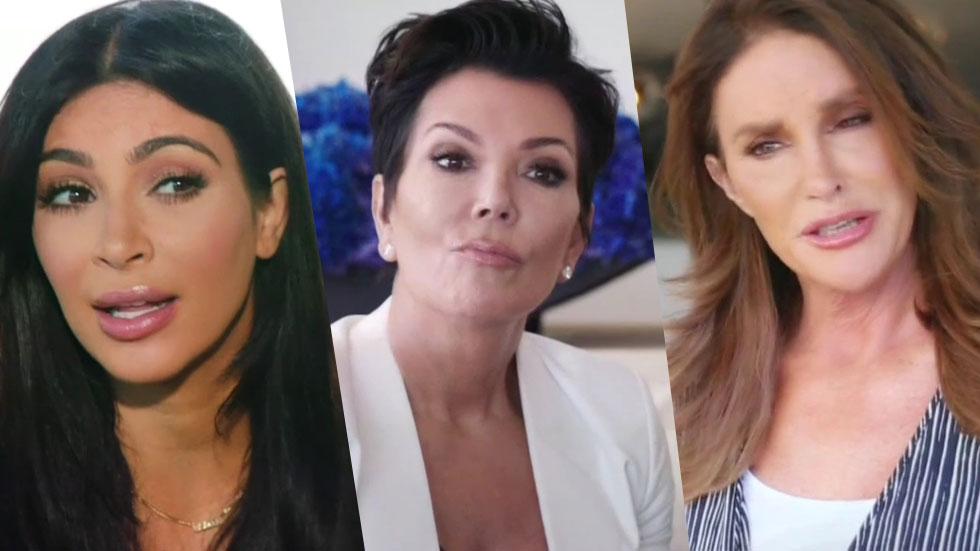 Caitlyn Jenner became the most talked-about member of the family following her Vanity Fair interview, but she faced accusations of burning bridges with her loved ones to get there!
On this week's Keeping Up With the Kardashians, Kim Kardashian confronted Caitlyn for slamming Kris Jenner while discussing her transition from a male to a female in her debut magazine cover as a woman.
Although Caitlyn vowed to "set the record straight" after Kris was "blown away by some of the negative things" that Caitlyn said during her interview with Diane Sawyer, Caitlyn did everything but speak positively of her ex-wife!
Article continues below advertisement
Kim said of the Vanity Fair piece, "All Caitlyn could talk about is that my mom mistreated her and was awful and all these really rude things. There is no reason to bash my mom."
But no one was more upset than Kris, who was brought to tears over the article.
"We had this great life and not one nice word," she cried to Kim over the phone. "It just sums up that I'm this piece of sh*t person who was mean.
"He can go f**k himself. I honestly wish I never met this man. F**k you Bruce!"
Khloe Kardashian, who struggled with calling Caitlyn "her" all episode long, didn't hold back her feelings either.
"We're just not a family who goes and bashes the other one publicly," Khloe explained. "If we have an issue with someone, we'll go and address it to their face.
"We're not going to write about it in Vanity Fair."
Article continues below advertisement
Although Khloe explained that she's supportive of Caitlyn's transition, she stressed that Caitlyn "does not need to tear anyone else down to build anyone else up."
Watch the video right here on RadarOnline.com
Khloe even refused to attend the ESPY Awards to watch Caitlyn accept the Arthur Ashe Courage Award.
"I'm not rewarding bad behavior and how she disrespects mom," Khloe said. "I typically would be there front-and-center, but I think Caitlyn needs to take a little accountability for the Vanity Fair article and how she's hurting people right now."
But when Kim confronted her, Caitlyn said she didn't feel she did anything wrong.
"I thought Caitlyn would be a little kinder," Kanye West's wife said. "I think there are some things that you said that you might not realize are hurtful."
She then explained how unfair it was of Caitlyn to bash Kris for not staying with her after her transition because Kris is "not a lesbian" and "does not want to be with a woman."
Article continues below advertisement
Caitlyn revealed her side of the story, explaining how she felt that Kris didn't need her anymore during the final few years of their marriage.
Kim replied, "You said, 'Kris mistreated me.' It sounded like she beat the s**t out of you. You got the fame, but you're losing your family. It's your time, but you don't have to bash us on your way up."
Caitlyn then confessed how she feels bad for hurting Kris and their family, as she was only trying to "be honest."​
In an effort to overcome the backlash from her ex-husband, Kris decided to take a vacation to "get away from the negative energy."
Also on the episode, Khloe found herself feuding with Kim for her relationship with her ex-husband Lamar Odom.
The drama kicked off when Kim caught her younger sister flirting with her ex.
"I don't know why Khloe and Lamar are talking," Kim said in her confessional. "He hurt her so badly. As a big sister, I'm just really protective and for her just to be flirting with him on the phone makes me sick to my stomach."
Article continues below advertisement
When Kim confronted Khloe, she explained that she will always love and care for Odom.
"It makes me feel good to hear his voice and to know that he's okay," Khloe explained, as Kim warned, "I just think it's like a dangerous slope. He totally disappeared and completely broke your heart."
Watch the video right here on RadarOnline.com
But Khloe didn't have the same carefree attitude when she found out that her ex planned on partying at the same club as her in Las Vegas.
"This is not a place I would want to see Lamar for the first time in years," Khloe said before going back to her hotel room.
Despite the almost awkward run-in, Khloe continued to reach out to Lamar, as she consoled him after his best friend, Jamie Sangouthai, passed away.
"He's distraught and devastated," Khloe explained of the loss. "Anything could send him to spiral and that's the last thing I want for him."
Because of Sangouthai's death, Kim agreed to "put all of her feelings aside" so Khloe could be there for Odom during the difficult time.
Keeping Up With the Kardashians airs Sundays on E! at 8/7c.