Is It Over? Joe Giudice Discusses Divorce Papers As Teresa Sits In Prison, Then Has Phone Sex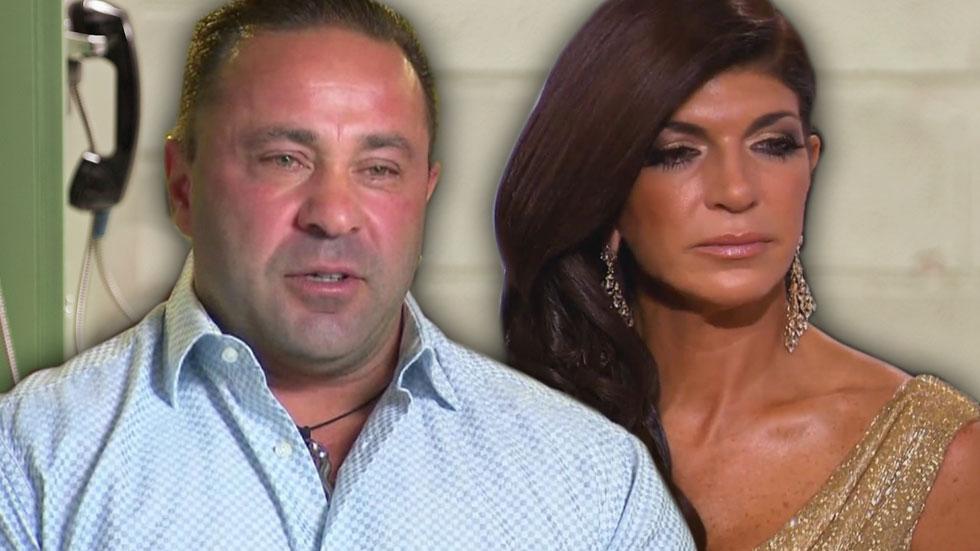 Joe, 43, begins the day by making breakfast for his family, or asking the girls to unfreeze sausage in a pan, while he reflects on the past year.
"It's been very tough without Teresa here," he admits. "I think my wife is definitely proud of me, otherwise she would have already sent me divorce papers though there, somehow."
Eldest daughter Gia confirms her dad's been a serviceable Mr. Mom to the brood, which also includes Gabriella, 10, Milania, 9 and Audriana, 6.
Article continues below advertisement
"He's definitely stepped up," she insists. "It's not something you would expect, but he gets breakfast together and makes sure everything is up and running."
But, "it's nothing like when your mom is here," she adds.
She may not be there in person, but her presence is still felt. Joe admits his wife "definitely still runs the house" through frequent emails and phone calls. (From the flowers to the food, she sets up Gia's dance pre-party with family at the house.)
He also confesses he's taking Teresa's incarceration harder than anyone.
"When I visit her, I cry like a freaking baby," he says. "My kids don't even cry."
Indeed, Gia initially seems happy and strong when she discusses the situation with cameras.
"When we go visit my mom, she just looks so relaxed. Like there's no more bags under her eyes," she claims. "She's positive, she's still the same Teresa. She just looks so much better."
Article continues below advertisement
But when Teresa calls during the dance preparations to speak with the surrounding extended family, including her own parents, the brave teen breaks down in tears.
The meltdown is brief, as Gia doesn't want to upset her ailing maternal grandfather.
"My mom doesn't want me or anyone to get emotional in front of her dad. He's not the healthiest man," she explains. "For him to see me upset, thats hard for him. I try my best just to keep it all together, because that's the last thing I want to see is him upset."
She smiles for photos and holds in another round of tears when Joe hands her pink roses sent by Teresa herself.
"I think I'm very mature for my age. Most 14-year-olds are not equipped to deal with the situation I'm dealing with," she says, putting a positive spin on the heartbreaking situation. "I wish my mom was here, but I know everything is going to be okay. It's the 8th grade dance, I still have senior prom!"
Article continues below advertisement
Joe warns Gia's young date Dante not to dance too close, and the aspiring singer, clutching a Chanel purse, is off to the party.
Earlier in the day, Joe remembers his dad with brother Pete by planting a tree in the backyard, where the family patriarch collapsed and died tragically last year at just 63.
He slugs red wine and cries before going back inside to help his daughter.
The show continues on June 22, the day of Gia's 8th grade graduation and subsequent family party.
Teresa's brother Joe Gorga and wife Melissa show up to the house to congratulate the teen on her big milestone.
"Sometimes it takes a horrible situation to realize how important one another are," Melissa, who once didn't talk to Teresa for a year during a bitter feud, tells the cameras. "I never want to go back to that dark place."
Daddy Joe ends the long graduation day by drinking wine on the couch— and talking dirty on the phone with his wife!
Article continues below advertisement
'I wish I was in bed with you right now," Teresa sighs.
"Believe me, I wish you were," Joe answers.
"You wanna have phone sex?" she asks.
Joe responds that they can have couch sex, since that's where he sleeps during her incarceration.
"Since she's been gone, I don't even think I've been in my bedroom. I don't have any desire to sleep in my bed without my wife there," he explains to the cameras.
Teresa then tells him she watched Channing Tatum stripper flick Magic Mike the previous night, and imagined his face on the hunky actors' buff bodies.
"When I come out, I'm going to be all over you," she warns him.
Fortunately for the amorous couple, they'll have some time together before Joe begins his 42-month sentence on fraud charges. After Teresa completes her time on December 23, they'll have more than two months as a complete family before Joe enters prison in March.
"We're going to be married forever," Teresa insists in her phone call.
Will Teresa and Joe make it through their prison nightmare? Sound off in the comments.