Joe Gorga Blames Joe Giudice For Teresa's Fraud Conviction On Tension-Packed 'WWHL' –– Plus More In Shocking Joint Interview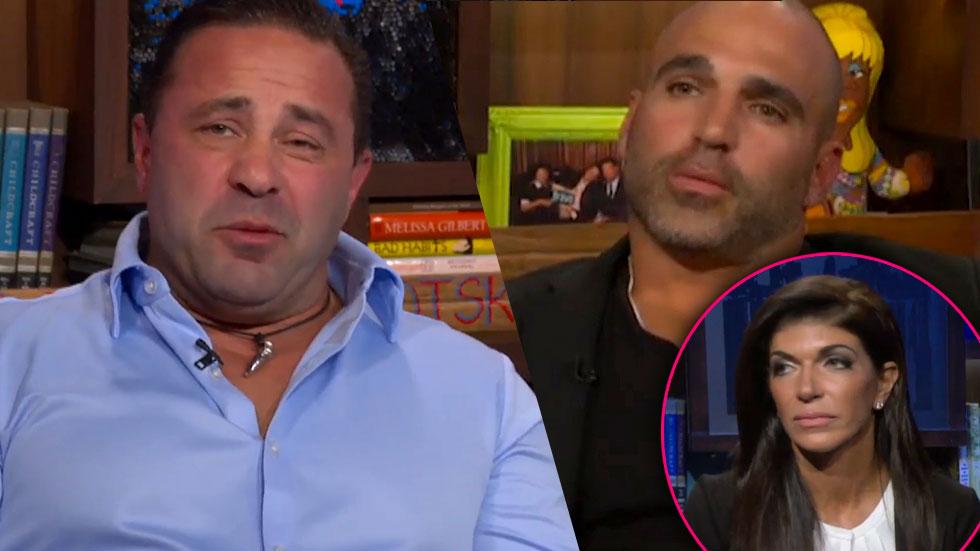 Joe Gorga admitted he blames Joe Giudice for his sister Teresa's fraud conviction in a tension-packed moment on Sunday's Watch What Happens Live, which aired after the first installment of The Real Housewives of New Jersey: Teresa Checks In.
Andy Cohen stirred the pot in asking Gorga a viewer's question -- whether he blames Joe for Teresa spending of most of the year behind bars -- and he replied, "Yes, who am I going to blame?"
Article continues below advertisement
The burly 43-year-old New Jersey native -- who took the blame for his wife's legal woes last week while speaking with NBC News, became a tad defensive, saying, "I don't know why he would blame me, but everybody's got their own opinion.
Watch the Video on RadarOnline.com
"I would blame more him than anybody, coming on the show and talking all the crap he talked, you know, all the years everything going on, so I would more blame him than me," Giudice said, half-joking.
Cohen attempted to smooth things over, saying that he didn't want to "screw up" the "good place" the two men were in.
Joe continued, saying that "when you get a fire going and you add a little gasoline, it doesn't make it any better."
In the timely show, the men admitted they've grown closer to one another.
When Joe was prodded by Cohen to send his wife -- who said she would be watching -- a message, he said: "Hello baby I love you. You know what your brother asked me to do, he asked me to kiss him -- I told him to kiss my a**!"
Watch the Video on RadarOnline.com
Elsewhere in the appearance, Giudice admitted that he's been frustrated because prison officials won't let him and Teresa have conjugal visits.
"I get to feel her a little bit here and there," he said. "I get yelled at by the guards!"
As RadarOnline.com previously reported, Teresa, 43, is due to conclude her prison stint just before Christmas, on December 23. She will then wrap up the remainder of the sentence on home arrest. At that point, Joe will enter prison for a 41-month sentence, with the possibility for more due to a separate conviction.