Exclusive
The Feud Continues! Teresa Giudice Penning 'Nasty' Letters To Brother Joe Gorga From Prison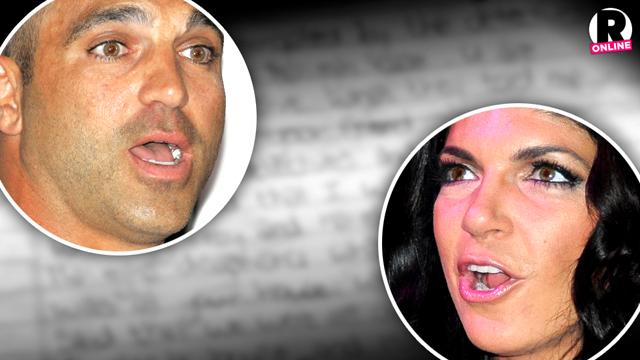 Distance — and prison bars — do not make the heart grow fonder! RadarOnline.com has exclusively learned that imprisoned Teresa Giudice is still very much locked in a family feud with her brother Joe Gorga and sister-in-law Melissa Gorga — and she's even written him prison letters to let him know!
A source close to The Real Housewives of New Jersey star tells RadarOnline.com that Giudice has been penning nasty letters to her brother from behind bars expressing how angry she still is with him and his wife. The letters began shortly after Giudice received a note from her own from her brother.
Article continues below advertisement
"Joe wrote first to Teresa because he was worried about the show," the source tells RadarOnline.com. "He was thinking that they might not tape another season without Teresa."
This desperate measure set Giudice off.
"Teresa has been writing Joe Gorga letters stating how angry she is with him," the source says. "She has sent about half a dozen of them."
In the letters, Teresa has been telling her brother that "she is still mad at him and Melissa for signing on to do RHONJ in the beginning without letting her know or getting her approval first," the source says.
"And the fact that Melissa and Joe and brought Kathy Wakile onto the show the day before filming still infuriates Teresa as well," the source says. "She feels like they all came on the show with the plan of taking her down."
Giudice has also been writing to let her brother know that she is still blaming him for her going to jail.
"She is blaming the Gorgas for her legal problems," the source says. "She is blaming them for landing her in prison."
Article continues below advertisement
Giudice has demanded in the letters that the Gorgas stop talking about her legal troubles publicly, according to the source, and she is upset that they discussed it so much on last season.
"She is still angry at them because they discussed her legal problems on the show when she asked them not to," the source says. "She will never forgive him for the disrespect and for letting the public know about their intimate problems."
Lastly, Giudice is mad that Joe constantly called her names throughout several seasons of RHONJ.
"Teresa told Joe that she still resents him for constantly calling her garbage in public and on the air," the source says. "She also said that she will never get over all of the other names that he called her on the show."
Now, Giudice is done with the Gorgas.
"Teresa says she's doesn't want a relationship with them," the source says.
And it's mutual.
"They all don't like each other," the source says. "They really can't stand each other."
"The only reason Joe Gorga is reaching back out to Teresa is because he has to stay relevant. That's why Joe wants the relationship back with Teresa — and Teresa's not having it!"