5 More Revelations From Secret Tapes Of Subway Perv Jared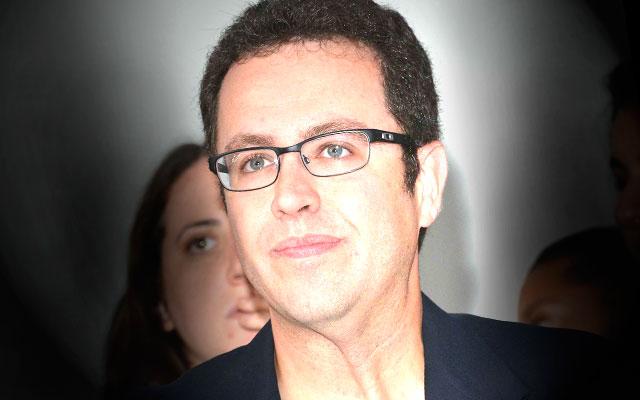 New revelations from Jared Fogle's chats with a one-time Florida journalist were aired on Dr. Phil's Thursday episode, and RadarOnline.com has all the latest in the shocking Subway scandal. As RadarOnline.com previously reported, the chats were recorded by Florida native Rochelle Herman-Walrond, who said she falsely led the disgraced former Subway spokesman on to think she was OK with his sinister lust for children; and started engaging with Fogle, 38, after he made a shocking remark to her about his lust for young girls; she later recorded the discussions and handed them over to the FBI.
Article continues below advertisement
With that in mind, RadarOnline.com takes a look at the five most shocking revelations from the recordings.
1. 'All Ages': In the chat, Fogle, who previously told Herman-Walrond that he's into "both" young boys and girls, said that he's fond of children of "all ages," explaining that he's very perceptive as to which children to target. "That's the thing, I mean ... it depends ... who is ready for what."
Watch the video on RadarOnline.com
2. Scouting Potential Victims: Fogle heavily leaned on Herman-Walrond as a potential source of new children, requesting detailed descriptions on what her daughter's friends — all ages 7 and 8 — looked like, in terms of who she thought was "pretty hot" or "cute," and who "the most promising" could be.
Watch the video on RadarOnline.com
3. Sickening Suggestion: At on point in the discussion, Fogle told Herman-Walrond should wear revealing clothes in front of the children in hopes of getting them "sexed up." He added that he was willing to bankroll whatever travel expenses would arise from the activities. "I would fly us clear across the world if we need to — to Thailand or wherever we want to go — if we're gonna try to get some young kids with us, it would be a lot easier."
Article continues below advertisement
Watch the video on RadarOnline.com
4. Grooming 101: Showing in experience as to how to select the right children for his plans, Fogle told Herman-Walrond that one friend of her child's (who Herman-Walrond made up) — a "girl from a broken home" — was a "definite possibility" for potential sex abuse. He told Herman-Walrond that the key was to "just show her some affection," so as to lure her in for further interaction. "We just start sharing stories, and then, you know, we get a little closer, and a little closer, and a little closer, and before you know it, it just starts to happen."
5. 'Very Creepy And Very Scary': Herman-Walrond said that her chats with Fogle were "very creepy and very scary" as the millionaire sicko described "what he would like to do to children" and "what he's had children do to him. She added that "he wanted me to have this special trip with him to Chicago to go to these crazy clubs and share in his fetishes." She compared the discussions, from Fogle's point of view, to "phone sex." (Fogle, on the tapes the show will play Friday, stresses to her he wants to see her in sexual situations with a young boy, adding that it would turn him on significantly.)
As RadarOnline.com previously reported, the disgraced former Subway spokesman, 38, worked out a plea deal in which he'll spend five to 12 and a half years in prison, pay more than $1.4 million to his victims and have to register as a sex offender. The Indiana native is currently on home arrest, and slated to be sentenced Nov. 19.
More from the chats will air on Friday's edition of Dr. Phil.