Exclusive
Hulk Hogan Sex Tape Set To Air In Court -- What It Will Reveal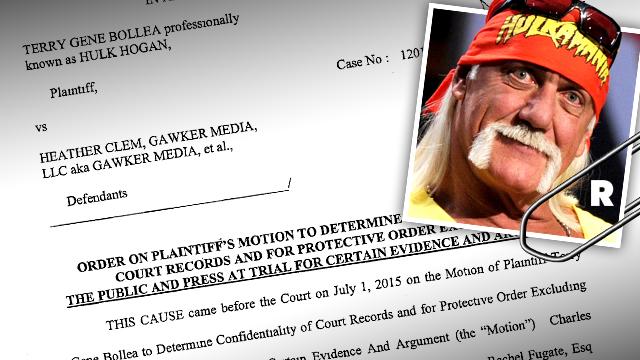 Hulk Hogan's jaw-dropping sex tape will be aired in a Florida courtroom, RadarOnline.com has learned. But only select members of the judicial process will get to see it.
According to a written ruling by Florida Circuit Court Judge Pamela Campbell obtained by Radar, "When the video is played for the jury at trial, the monitors shall be turned in such a way so that only the jury, the parties, their trial counsel, and court personnel may see the video."
Article continues below advertisement
However, the judge wrote, "The public and press shall not be excluded from the courtroom when the video is played, and the pooled camera shall not be turned off during such time."
The latest embarrassment for Hogan, born Terry Bollea, comes just weeks after Radar and The National ENQUIRER exclusively revealed that the wrestler had used homophobic slurs on the videotape, which was filmed with one-time lover Heather Clem, the ex-wife of the wrestler's estranged pal, radio shock jock Bubba The Love Sponge.
The 62-year-old recently told Good Morning America that he's no bigot, claiming that at the time the racial slurs involving the N-Word were recorded -- around 2006 to 2007 -- he was in a suicidal state of mind, as his marriage to wife Linda was crumbling.
"I was to the point where I wanted to kill myself, you know?" a teary Hogan said of the pillow talk with Clem. "I was completely broken and destroyed and said, 'What's the easiest way out of this?' I mean, I was lost."
A pre-trial hearing has been scheduled for the next several weeks.
Story developing.