More Of Vicki's Lies! Heather Dubrow Says Gunvalson Wasn't 'Abandoned' By 'RHOC' Costars: 'She Blew It!'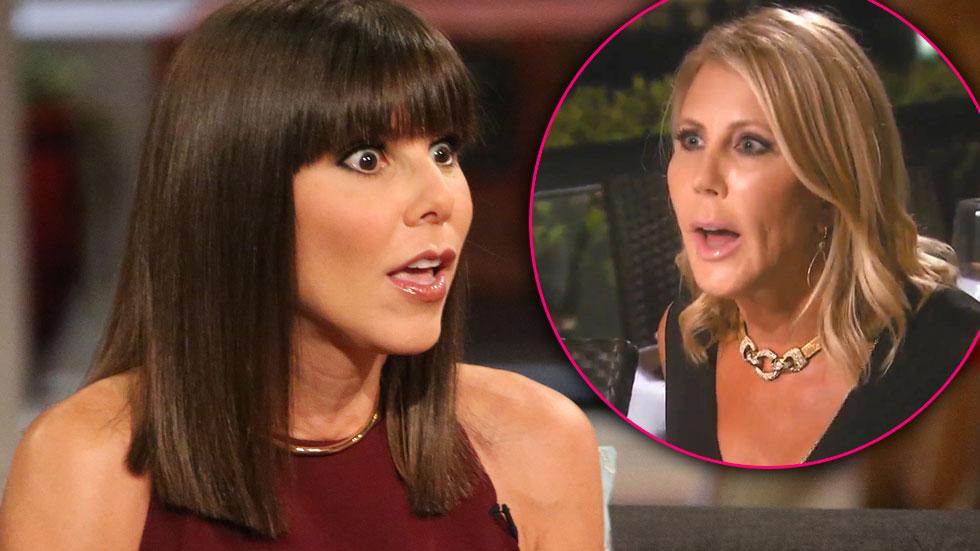 Not letting her get away with it!
Heather Dubrow called in to Reality Checked with Amy Phillips this week to set the record straight on Vicki Gunvalson's comments -- during Watch What Happens Live -- that her Real Housewives of Orange County costars had "abandoned" her as a friend.
"What's so funny about that is, you know, I'm fond of Vicki," Heather explained. "We're not best friends, we don't hang out together off-season like I do with the other girls, we're just not close like that. But if she called me, I'd always talk to her."
Article continues below advertisement
"And yesterday, I realized she's in New York," she continued. "Whether I agree with what has gone on with her and Brooks or not, as a cast mate and as someone who's been friends with her for four years, I texted her and said, 'Have fun in New York City, break a leg tonight!'"
Interestingly, Dubrow explained, Vicki responded, saying: "Thanks honey! I was just at Chanel on 6th Avenue thinking of you. Miss you!"
"And then she goes on Watch What Happens Live and says no one has reached out to her! And I thought, 'if I was your last hope of having a friend, that just blew it!'"
Mic drop!
Listen To Heather's Interview On SiriusXM:
Heather isn't alone in hating on her now-frenemy. RHOC costar Tamra Judge also ripped into Gunvalson this week, calling her a "backstabbing" who "just says what's good at the moment."
Meanwhile, Vicki called out her O.C. cast mates in a recent Instagram post, making it clear that she's not playing nice anymore.
"Surrounding myself with the original HW that actually is not evil," she captioned a photo on Instagram, adding the hashtags, "#friends, #wantthebestforeachother, #family, #workingwomen, #bothsinglenow."
Will Vicki be exposed as a liar on the Real Housewives of Orange County reunion special or are the other 'Wives to blame? Let us know what you think in the comments below!