Corey's Wife Miranda EXPLODES At Leah In 'Teen Mom 2' Reunion Preview: 'I Don't Need Your Bulls***!'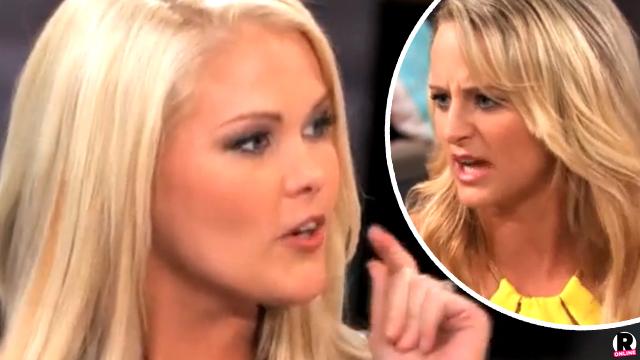 Corey Simms' normally soft-spoken wife Miranda Patterson has had enough!
In Okmagazine.com's exclusive preview clip of tonight's Teen Mom 2 reunion special, the pregnant Patterson explodes at her husband's troubled ex-wife, Leah Messer.
As RadarOnline.com readers know, Simms and his wife have been fighting for custody of the former couple's 5-year-old twins, Ali and Aleeah, amid the 23-year-old mother of three's countless personal problems. (Messer spent part of the summer in rehab for what sources say was a prescription pill problem.
Article continues below advertisement
In a heated conversation moderated by Dr. Drew Pinsky, Messer confronts Patterson about never speaking with her when they exchange the children during drop-offs.
"What do you need me to get out of the truck for? To ask you how your day was Leah? How was your day?" Patterson asks sarcastically.
"The attitude you give, that's not okay. That's not the kind of relationship I ever wanted with you," Messer calmly responds.
"You disrespect me!" Simms' better half shouts.
The argument escalates until Patterson flips.
"I really don't need the stress, okay?" she says. "I don't need your bulls*** stress!"
Pinsky then asks Patterson why she seems so "hostile," and what Messer has done to warrant her extreme anger.
"We are fed up!" she says, before carefully adding. "There's a lot."
The stunning blonde could be referring to rumors that Simms had sex with his former wife in the back of his truck.
According to In Touch Weekly, the former couple hooked up during a meeting to discuss their daughters.
"He's admitted the affair to Miranda," an insider told the magazine. "It's a huge mess."
Are you Team Leah or Team Miranda? Watch the clip below, and don't miss the Teen Mom 2 reunion's second half tonight on MTV at 10 pm est.