Todd Chrisley At War With Son Kyle Over Granddaughter Chloe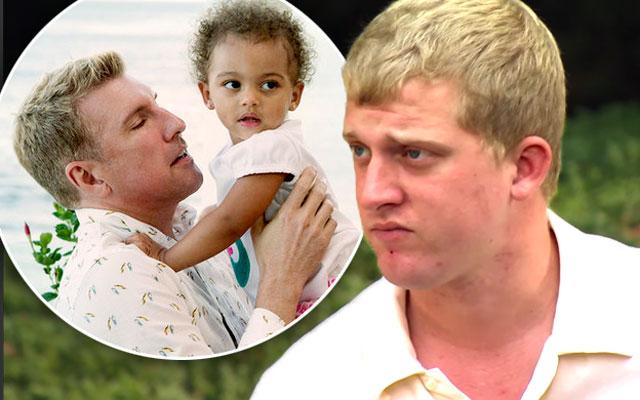 Chrisley Knows Best patriarch Todd Chrisley is not backing down to his estranged son Kyle when it comes to his granddaughter Chloe! Kyle has said he doesn't want his dad to put his daughter on TV any more, but RadarOnline.com has exclusively obtained a letter from Todd and Julie Chrisley's lawyers to USA Network stating that Chloe will stay on the hit TV show even if Kyle doesn't want her to.
Article continues below advertisement
Todd and wife Julie have custody of Chloe, and the letter states that "all legal decisions related to Chloe were to be discussed with Chloe's parents, Todd and Julie, and in the event of a disagreement between the parties related to a legal decision, Todd would have the final decision making authority."
"Simply put, Todd has the final decision making authority for all legal decisions for Chloe when the parties cannot agree. Further, Kyle does not have the capacity to make legal decisions on behalf of himself or Chloe."
As Radar previously reported, the battle for Chloe began when the devoted husband to his wife of 18 years, Julie, 42, and father to Lindsie, 25, Chase, 18, Savannah, 17, Grayson, 8, cut his now 24-year-old son Kyle from the family's hit TV show.
Oct. 2014, after Kyle accused Todd of stealing his daughter, Chloe, Todd went public to blame his son's admitted history of drug abuse and bipolar diagnosis as the reason that the two have not reconciled.
Article continues below advertisement
Kyle insists he is clean and on a good path, but according to Todd, he is still putting Chloe's well-being first and keeping her on air.
"Chloe calls Julie her 'Meme' and she calls me her 'Papa," Todd proudly tells Radar.
"This child is the happiest baby you could ever be around. That is with 30 people in the house virtually all the time filming. With housekeepers and two assistants that work with me and Julie to verify what kind of home that Chloe lives in."
"She is in a private Christian school and she is surrounded by love. I have bought every single stitch of clothing that has ever gone on this child's back. I have provided every piece of food that has ever gone in this child's mouth," he continued.
"It's sad that this child has a parent that wants to play these kind of games. It's sad. It breaks my heart. It breaks my entire families heart because – at some point – we are going to have to tell this child why she is not with her dad."
Do you think that Chloe Chrisley should remain with Todd and Julie Chrisley? Tell us your thoughts in the comments below.