Brooks Threatens To Sue Vicki If She Spills Cancer Secrets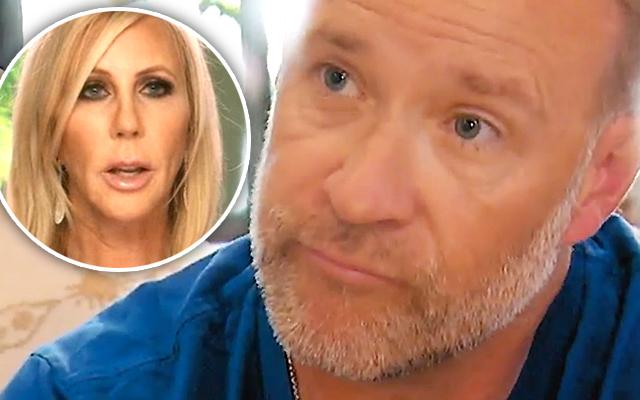 Vicki Gunvalson is afraid to reveal the truth about Brooks Ayers' cancer diagnosis because he has threatened to sue the Real Housewives of Orange County star, RadarOnline.com has learned.
"Vicki and Brooks signed a legal document stating they would never speak negatively about each other in the press when they started dating," an insider told RadarOnline.com.
Now, the source claimed, "Vicki is afraid to reveal her true thoughts about Brooks' cancer diagnosis, because he has threatened to sue her. Citing the legal agreement, Brooks has told Vicki to keep her mouth shut" about claims he doesn't have non-Hodgkins Lymphoma.
Article continues below advertisement
Indeed, legal action would not be a surprise coming from Ayers, since he recently sent RHOC star Meghan Edmonds a cease and desist letter for a similar reason, as RadarOnline.com reported. And earlier this week, Gunvalson's daughter Briana Culberson claimed he's threatened to sue her as well.
Meanwhile, in a recent Bravo blog, Gunvalson continued to defend her ex-boyfriend Ayers' alleged battle with cancer, slamming former BFF Shannon Beador along the way.
"As I write this blog, I have so many mixed emotions, but mostly it's sadness and betrayal," Gunvalson shared. "The constant subject line of Brooks' cancer, his choice of treatment, and if he was 'faking' it or not has gotten out of control. My stance is I do not believe he faked cancer, as there are way too many people involved, way too many doctor visits and way too many doctor reports which would be very difficult to falsify."
Article continues below advertisement
Gunvalson recently hit back at her castmates, explaining why she is standing by her then-man despite the controversy.
"Nobody has given me a reason not to believe him except bits and pieces of information," she exclusively told RadarOnline.com. "Nobody has given me a document that says he doesn't have cancer so I'm going to believe him until I see that for my own eyes."
During the reunion, Gunvalson revealed she is dating a mystery man, but as RadarOnline.com reported, she is not ready to go public.
The source said, "Her friends hope she has moved on from Brooks once and for all. Whenever Vicki goes out, she is always approached by professional men that have jobs, unlike Brooks. No one knows why Vicki was even attracted to Brooks to begin with."