Vicki Betrayed! Brooks Ayers Secretly Cashing In On Breakup With Gunvalson -- How He's Making Thousands Off His Ex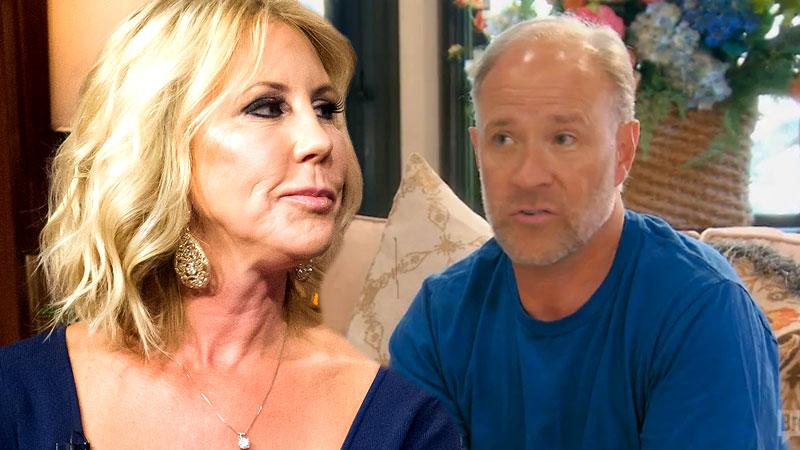 Breaking up with Vicki Gunvalson could be the most lucrative decision of Brooks Ayers' reality TV career! Although he was not paid to appear on The Real Housewives of Orange County, RadarOnline.com has learned he's been cashing in since their split with secret interviews and more.
As RadarOnline.com reported, Ayers travelled to New York City last month on Bravo's dime to film a secret interview with Andy Cohen about his cancer scandal.
Article continues below advertisement
"Not only did they fly him first class to New York and put him up in a very nice hotel, but they also paid him $10,000!" an insider told RadarOnline.com. "The whole thing lasted about four hours."
Said the source, "Bravo had wanted Brooks to come to the reunion taping, but he refused. There was no way he was going to go into that hornets' nest,."
As RadarOnline.com reported, The Real Housewives of Orange County reunion is shooting today at an undisclosed location in Los Angeles.
Gunvalson "has no idea what she is walking into because Andy and Brooks have refused to tell her what was discussed," said the source.
"Vicki just feels so betrayed that Brooks chose a payday over her, and is refusing to tell her anything about the interview. She stood up for him, and doesn't want to look like a fool to her fans."
Meanwhile, questions about his cancer diagnosis have only continued to escalate. On Monday night's episode of RHOC, Ayers finally presented his cancer documents to Tamra Judge on camera, for the world to see. But while Ayers claimed that his documents proved once and for all that he had cancer, practicing oncologist Kristina Mirabeau-Beale, who has not treated Ayers, examined the documents as seen on camera, and told RadarOnline.com exclusively that she believes they do not prove that he has cancer.
Article continues below advertisement
Aside from the fact that CT and PET scans do not diagnose cancer, she said there are inconsistencies in the documents that make a reasonable person question whether or not they are authentic medical records. "Medical documents are part of a permanent record," Dr. Mirabeau-Beale said. "They should not have jumbled words or typos so the odd formatting is concerning."
On the show, Ayers mentioned that he was using vitamin therapy to cure his cancer, however, when asked if a juice cleanse or "vitamin therapy" was recommended as a treatment for cancer, Dr. Miarbeau-Beale's answer was a resounding no. "Typically cancers are treated with surgery, chemotherapy or radiation or some combination of those modalities, not juice cleanses. Patients are generally told to have a balanced diet during therapy. A juice cleanse is not a standard nutritional recommendation during cancer therapy nor is it a recommendation as treatment itself. It could lead to malnutrition. Some patients pursue complementary therapies in addition to their traditional chemo or radiation, but this is not as widely accepted because there is little medical evidence to support their efficacy and some complementary therapies may have negative interactions with standard treatment."
For more from the reunion and Ayers' cancer scandal, stay with RadarOnline.com!