Kardashian Victory! Amber Rose & Blac Chyna's Reality Show Scrapped After Call From Kim -- Find Out What Was Said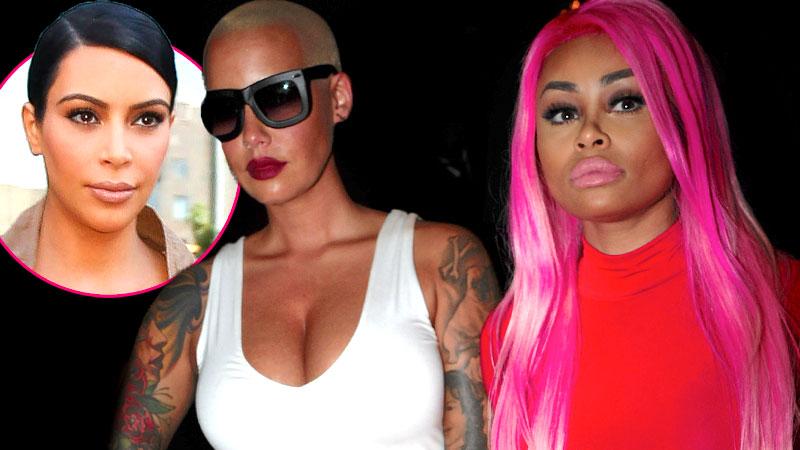 After what seemed like an eternity of back-and-forth banter between the Keeping up with the Kardashians sisters and their nemeses, Amber Rose and Blac Chyna, the underdog duo has finally decided to pull the plug on their upcoming reality series with MTV. And, according to a source very close to the situation, Kim Kardashian may be responsible!
Last week, the pregnant reality beauty – whose husband Kanye West infamously dated Rose prior to getting married to Kardashian – decided to call a truce following Rose's tearful "Slut Walk" speech, in which she "forgave" West for slamming her after their breakup.
Article continues below advertisement
Now, RadarOnline.com has learned that "Kim has spoken to Amber Rose this past weekend. She wanted to let her know that she and Kanye both thought that it took a lot of courage to do what she did and that they are both ready to move on from the drama and start fresh."
Apparently, this struck a chord with the bald-headed former stripper, as the source says, "Not long after, Amber Rose decided to pull the plug on her and Blac's reality show."
The duo cited busy schedules but the insider claims there was another reason: "Without being able to trash the Kardashians, they just felt like their show does not have much weight any more," says the source. Meanwhile, the Kardashians are thrilled.
"For the past several months, the Kardashians were living in fear about this show and they are so glad that Amber and Blac are no longer going to be using their newfound fame to talk any more sh*t about them."
Article continues below advertisement
According to the insider, "This does not mean that Amber and Blac's show is scrapped for good, but they are no longer focusing their energy into this ongoing feud."
"They have all just agreed on a truce because Kim knew that she had to make this situation good for the future of KUWTK."
Luckily, for the sake of their fans, Kardashian and Rose are thinking about making their heart-to-heart the focus of an upcoming episode of the Kardashians' reality show, the insider adds.
"Kim and Amber have spoken on the telephone a couple of times already and they are even thinking about making their official amends to each other on an upcoming episode of KUWTK."
Do you think that Amber Rose and Blac Chyna gave up too easily? Tell us your thoughts in the comments below.