Exclusive
Jailed Psycho Surgeon Christopher Duntsch Calls Himself 'Stone-Cold Killer' — Watch Shocking Testimony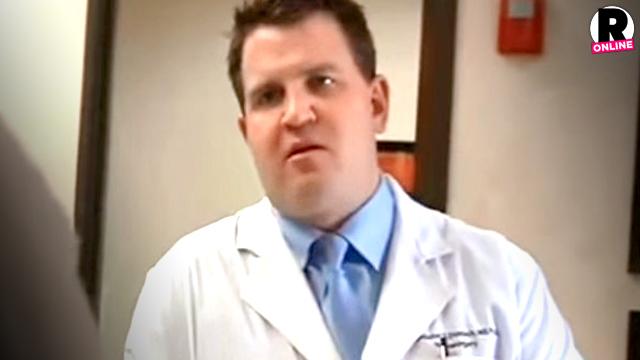 In a heart-stopping case of medical malice, a deadly doctor has been jailed after allegedly leaving a trail of maimed and murdered bodies in top Texas hospitals.
A special investigation by RadarOnline.com has revealed hospital bosses and regulators ignored warnings about Dr. Christopher Duntsch.
"A lot of really shocking things happen in hospitals but the Duntsch case tops the list," said Jim Girards, a medical malpractice lawyer.
Article continues below advertisement
A new deposition video Radar has obtained shows just how depraved the madman really was. "I likely am something between God, Einstein and the Antichrist," Duntsch boasted to a colleague in a chilling Dec. 9, 2011, email. "What I am being is what I am, one of a kind, a mother f--ker stone cold killer."
Duntsch, 44, was jailed in July when prosecutors slapped him with five counts of aggravated assault and one count of injury to an elderly person. The charges cited use of deadly weapons: his "hands and surgical instruments."
Duntsch is accused of causing the death of one victim and the horrific injuries of others.
He deliberately botched an operation on Floella Brown, 63, who died after a stroke and "excessive" blood loss, according to the indictments.
After Kellie Martin, 55, bled to death when Duntsch sliced through an artery, he moved to other hospitals, including Dallas Medical Center.
While one hospital involved in the horrific mess, Baylor Regional Medical Center in Plano, issued a statement saying the lawsuit allegations are misleading, Girards said: "What we do know is Duntsch was a cash cow for Baylor. He represented that he would earn a minimum of $20 million a year for them."
Article continues below advertisement
Other cases of Duntsch's alleged disturbing behavior included operating on Mary Efurd, 74, in 2012 and "drilled multiple holes" in her, leaving her in chronic pain, prosecutors said.
Names of additional victims include Jeffrey Glidewell, Jeff Cheney, Ken Fennell, Philip Mayfield and Jacqueline Troy.
"Duntsch is an impaired physician, a sociopath," witness Dr. Randall Kirby said. "He must be stopped from practicing medicine!"
WATCH THE SHOCKING DEPOSITION