Off The Wagon? Shia LaBeouf's Wild Party Act Caught On Tape! See The Shocking Video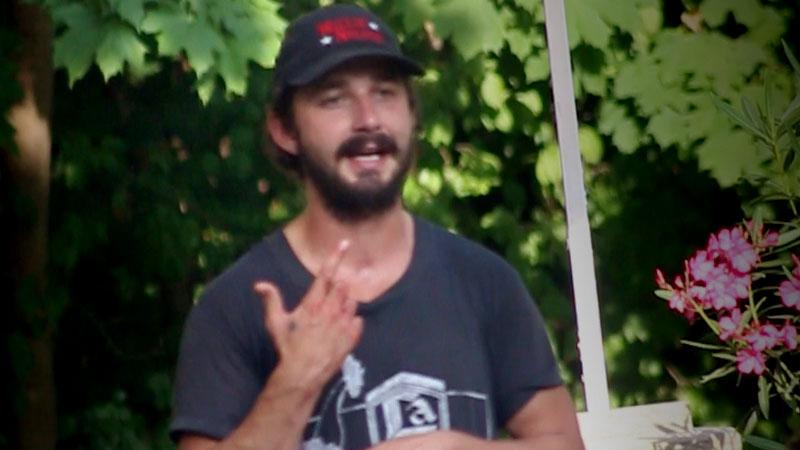 Shia LaBeouf's outlandish behavior has become legendary and now RadarOnline.com has exclusively obtained a shocking video of the actor from a party where he was ranting at his girlfriend, drinking a beer and smoking a suspicious looking cigarette.
Taken recently, the video show the bearded 29-year-old exhibiting strange behavior at a Tubingen fraternity party in Germany with his then-girlfriend Mia Goth.
Article continues below advertisement
According to a fellow party-goer, the Transformers actor "was having a good time," with the group of friends.
Though LaBeouf has admitted to spending time in rehab, and got sober in late 2014, "He felt at home downing some beers," the source told Radar.
"He seemed relaxed and drinking, but at one point was speaking roughly to his girlfriend. He was letting loose — dancing and talking loudly to himself, kind of like he was on a rant. He was acting like no one saw him."
LaBeouf was caught on camera telling his girlfriend that he would have "killed her," and in Radar's video he is acting erratically.
"He was very bossy and acting like he was higher up the food chain," the source revealed. "His girlfriend was trying to get away from him away and he didn't want to leave. He was uncontrollable."
LaBeouf and Goth have since split.
WATCH the disturbing video:
LaBeouf paid no heed to Goth's pleas to leave, and the source said "He wasn't going to listen to her. He seemed quite drunk, even taking off his shirt. It was a really big beer and let's just say he was having a good time with it."
Article continues below advertisement
But LaBeouf appeared to be enjoying more than just alcohol. The source revealed that he "looked like he had a joint in his hand. He was smoking something."
The partying continued for a long time the source told Radar. "He was acting out and drinking for a good five hours. The ranting continued and he got a lot more emotional after a few drinks."
And his girlfriend was growing increasingly frustrated. "Mia was getting pretty annoyed and sounded like she kept saying, 'Let's go home, you've had enough.'"
Check out the video and tell us what you think about LaBeouf's stranger behavior in comments below.