Family Fights! Vicki Gunvalson Refuses To Discuss Boyfriend Brooks With Daughter Briana -- Watch Their Explosive Fight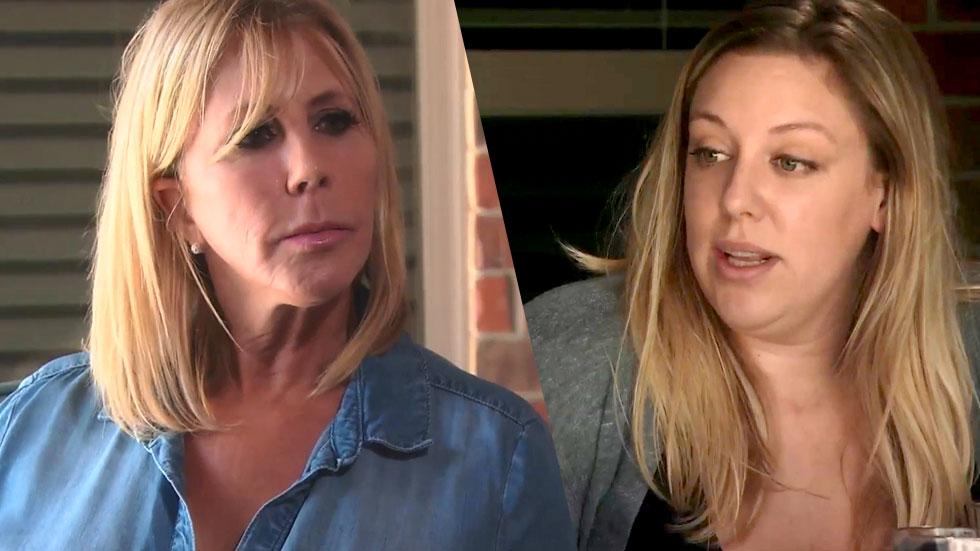 This week on the Real Housewives of Orange County, it's all about family...drama.
During a family visit to Oklahoma, Vicki Gunvalson turns her attention to daughter Briana, who has been less than friendly towards allegedly ailing boyfriend Brooks Ayers.
"My kids are never going to be around him, because I still think he's a terrible person," Briana -- a registered nurse -- candidly tells cameras.
When Briana tells Vicki that she isn't comfortable staying at her home in Orange County now that Brooks has moved in, the news doesn't go over well with Vicki.
Article continues below advertisement
"I'm not gonna talk about this on camera," she tells producers as Briana follows her offscreen.
"You moved somebody into your house that I didn't want around my family," she calls out, adding, "I'm trying to be nice about it!"
"You are not going to stay in a hotel!" Vicki insists, launching into an unintelligible tizzy over the whole thing.
Their argument escalates quickly, ending with Vicki storming off in a huff.
"Thanks for slamming my door!" Briana finishes off their discussion.
Watch the Video on RadarOnline.com:
Back in Orange County, Meghan King Edmonds experiences a health scare that could change her life forever.
After finding a lump on her breast, the former model makes an appointment with her doctor, noting that breast cancer runs prevalently in her family.
Luckily, it's only good news for Meghan, who is soon informed by her doctor that she doesn't have anything to worry about just yet.
Article continues below advertisement
Meanwhile, Tamra Judge and husband Eddie disagree when it comes to helping Tamra's son Ryan with his finances. After the fitness guru agrees to loan 30-year-old Ryan $8,000 towards a new apartment without running it by Eddie, all hell breaks loose between the couple.
"He's not a baby, he's a man," he reminds Tamra.
"I want to give him the opportunity to be out here and close to us," Tamra pleads. "Don't get mad at him, if you're gonna get mad at anybody get mad at me."
"I am mad at you!" Eddie exclaims before the two agree on making Tamra's financial front an official loan.
In the midst of it all, Tamra chooses to be baptized as an adult, sharing: "I want someone to help me be a better version of myself."
But a source close to the star recently told In Touch that things aren't as they seem for Tamra's story line.
"She says she's found religion," the insider shared. "But her 'new leaf' story line is completely fake."
Article continues below advertisement
Watch the Video on RadarOnline:
On the other side of town, Heather Dubrow and husband Terry discover that working together is the new way to spend quality time together.
The couple bands together to develop a skincare line, which proves to be a risky but enjoyable endeavor.
For Shannon and David Beador, quality time comes in the form of a homemade dinner provided by their daughters.
"We made you this dinner because we wanted to make your relationship better," they tell their parents.
Shannon shares with cameras that she believes the effort to be a "do over" for her mediocre birthday dinner a few weeks prior.
"This dinner shows me that my kids value family as much as I do," she smiles.
The Real Housewives of Orange County airs Mondays at 9 PM EST on Bravo.