'I Want Justice': Meghan Edmonds Calls Brooks Ayers' Medical Records 'Forged' On Shocking 'RHOC'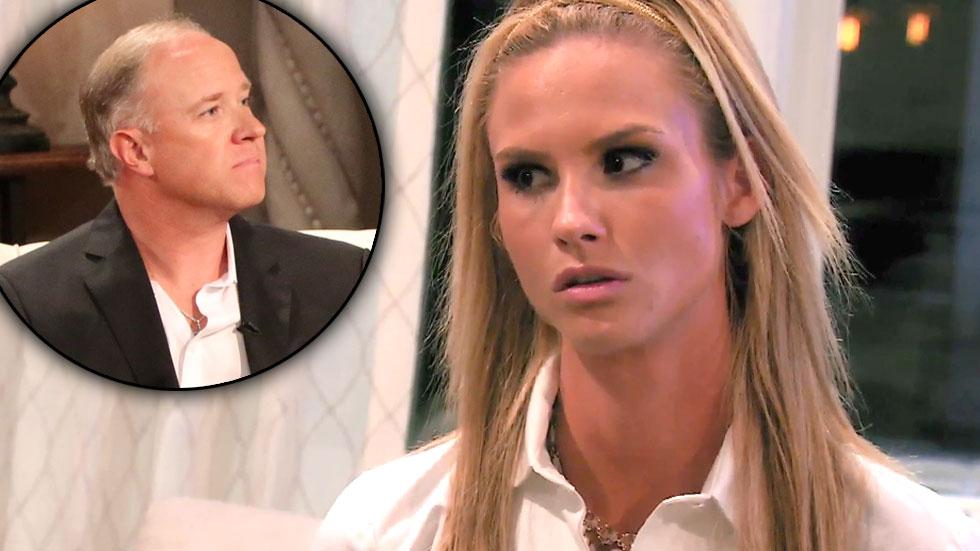 This week on the Real Housewives of Orange County, alliances are shifting and and the pressure's on!
Hoping to take the next step in her religious journey, rambunctious Tamra Judge seeks counsel from her pastor.
"Getting baptized is kind of like my coming out party," Tamra quips of her decision to reaffirm her faith.
But the new grandmother worries that her troubled past and failed relationships have already caused unshakable damage to her son Ryan.
Article continues below advertisement
"I'm not a good role model when it comes to marriage," she cries to her pastor, explaining that Ryan has called off his engagement three times.
"The past is in the past and you have God in your life now," her pastor assures, encouraging Tamra to continue to do her best and move forward with faith in her heart.
Watch the Video on RadarOnline
Meanwhile, Vicki Gunvalson takes boyfriend Brooks Ayers to a practitioner to review documents claiming that his cancer is not only present, but it has caused abdominal inflammation.
"It really makes me feel sorry for all these people who don't believe that Brooks has cancer," Vicki scoffs in confessional.
"The fact that these women are doubting my illness, it absolutely p*sses me off," Brooks adds.
In an attempt to stop the gossip once and for all, Brooks and Vicki invite Tamra over to review his PET-CT scan. Unfortunately, Tamra doesn't take the bait just yet.
"I wasn't aware that you could get masses with a blood cancer," she admits after looking over Brooks' results. "This is all really confusing."
Article continues below advertisement
"I decided to show the record now because I hope this will shut the ladies up and show them that they're wrong," Brooks professes before urging Tamra to act as a supporter.
"Tamra started it, now I'm gonna make her finish it," Vicki later seethes in confessional.
Across town, Heather Dubrow and hubby Terry go on live television to promote their skincare line, but Terry soon finds that he's a bit out of his element when it comes to ad-libbing.
"I either coddle him or I give him the 'Be a man' speech," Heather shares before opting to go easy on her hurting hubby.
The couple waits to go on air knowing that if they look foolish, the other 'Wives -- who have hosted a viewing party in their honor -- will rag on them for years to come.
As the Dubrows' special winds down with utmost success, Meghan King Edmonds reveals to the gals that she's been searching for the truth behind Brooks' PET-CT scan.
Article continues below advertisement
After calling his doctor's office and discovering that they "no longer do those procedures," ex-baseball star Jim Edmonds' young bride concludes that Vicki and Brooks are still fibbing to their friends.
"I am blown away," Shannon sighs at Meghan's revelation. "It's all just a big old ball of a mess."
"I don't want to hear this because it puts even more doubt in my mind," Tamra chimes in, telling the girls that she was propped up to be their advocate. "Do you think he's lying? Do you think he made this up?"
"Yes. Yes I do," Meghan answers. "I think his PET-CT scan is forged. Things aren't adding up and that is f*cked up. I want the truth, I want justice!."
"I'm starting to feel like I'm being played," Tamra concludes.
Watch the Video on RadarOnline
The Real Housewives of Orange County airs Mondays at 9 PM EST on Bravo.