BFFs No More! Vicki Gunvalson Cuts Tamra Judge From Her Life Over Brooks Ayers Cancer Doubts -- The Ultimate Betrayal Revealed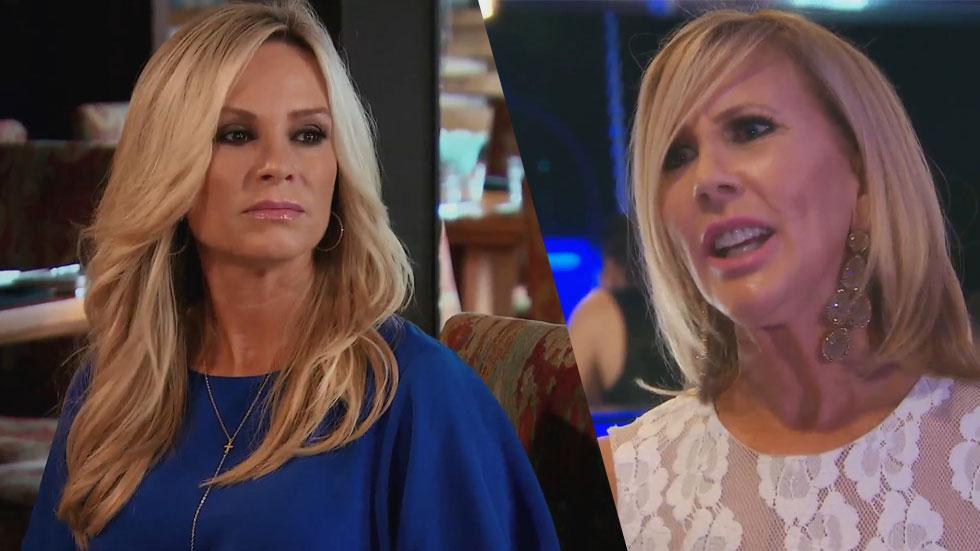 The Real Housewives of Orange County's oldest friendship is over -- all thanks to a man! RadarOnline.com has learned Vicki Gunvalson and Tamra Judge are at war over the Brooks Ayers cancer drama.
The latest tension came after Gunvalson was stunned to see recent episodes showing Judge stirring up rumors Ayers was faking his diagnosis -- when she thought Judge had her back.
Now, "Vicki isn't talking to Tamra and is vowing to cut her out of her life for good this time," an insider told Radar. "Vicki had been willing to give Tamra another chance after all of the divorce drama with ex-husband, Simon Barney, but this was the final straw."
Article continues below advertisement
"Tamra went behind Vicki's back for months betraying her confidence about Brooks' cancer," the source continued. "Even though Vicki and Brooks are no longer together, she can't forgive Tamra for this ultimate betrayal."
On Monday night's episode, Judge also confronted Gunvalson about Ayers, with Gunvalson warning, "If you're my friend, you don't talk about Brooks."
Judge responded, "That's not what a friend is," at which point Gunvalson suggested Judge not get involved in the sensitive discussion with others.
Gunvalson — who asked, "What does Brooks need to do: Die to prove everyone wrong?" — was so exhausted of defending Ayers, she had little to say when Shannon Beador confronted her, asking her why she didn't use the cancer doctors she'd suggested.
Weary of the arguments with friends over the issue, Gunvalson said she felt betrayed and sad over the constant second-guessing from her inner circle.
"I'm trying to be as strong as I can be … when you're a friend, you're a friend. I don't know how to end this, I just don't," she said.
The source added, "There is no coming back for Vicki and Tamra. Their relationship was already on a very fragile ground, and this was the nail in the coffin."