The Truth Comes Out! Meghan Edmonds Confronts Vicki's Boyfriend Brooks Ayers For Badmouthing Her Marriage In Shocking Face-Off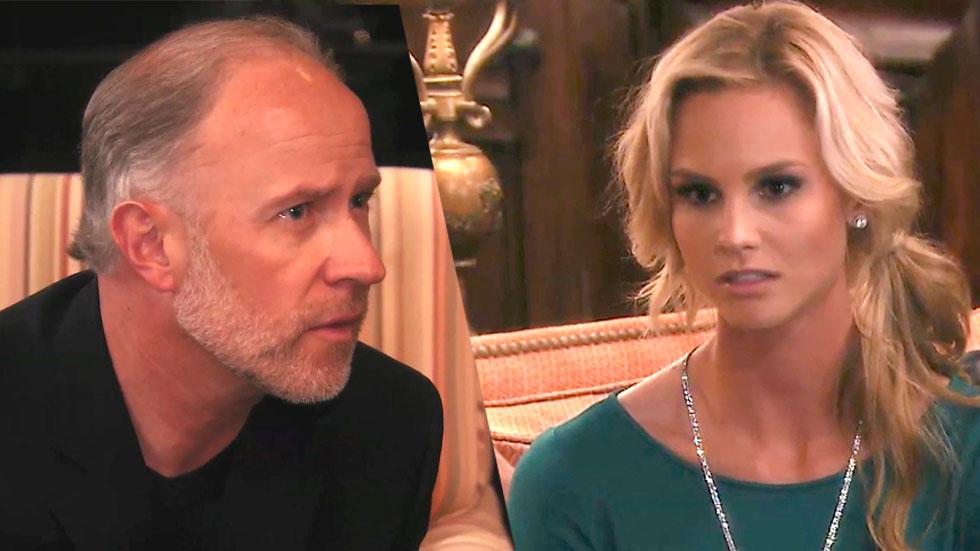 This week on the Real Housewives of Orange County, the ladies of the OC do some digging into Vicki Gunvalson's boyfriend Brooks Ayers' health situation.
Over dinner, Shannon Beador, Heather Dubrow and newcomer Meghan King Edmonds dish on whether or not he'll attend Shannon's upcoming Aries-themed party.
In an unexpected twist, Meghan admits that she called Brooks' supposed cancer doctor, who tells her that he "does not treat cancer."
Article continues below advertisement
Shannon said, "The truth will come out."
Watch the Video on RadarOnline
Meanwhile, Tamra Judge has a difficult conversation with her son Ryan.
With a fiancee and a daughter under his belt, Ryan admits that he is still unsure when it comes to tying the knot.
"I've seen you get married so many times," he admits to Tamra over dinner.
During flashbacks of her marriage to ex Simon Barney, Tamra confesses that Ryan's comments upset her, though she hopes that he's learned from her mistakes in love.
Later, during Shannon's Aries party, Meghan tells the girls Brooks' ex-girlfriend had claimed on a blog that the longtime bachelor had faked cancer in the past, so she reached out.
Unfortunately for Meghan, Brooks' former flame took it upon herself to let Brooks know about the situation.
"What do I have to do, get a restraining order against this girl?" Vicki slams her much-younger costar in confessional.
Article continues below advertisement
Upon Vicki and Brooks' arrival, the party is tense, but that doesn't stop Meghan from taking a stand. She soon confronts Brooks for badmouthing her marriage behind her back.
"Did you say that Jimmy told you that we had been married four months and only two of them were good?" she asks Brooks during a conversation including their significant others.
Instead of clearing up the issue on his end, Brooks puts the blame on the alleged source, Tamra.
"I've been your biggest supporter," Tamra comes after Brooks in a rage. "Why don't you give a straight answer for once in your f***ing life?!"
Watch the Video on RadarOnline
"You're making a fool of yourself," Vicki interjects. "I told you that, not Brooks."
"It's not about loyalty Vicki," Tamra says, walking away from the conversation.
See more of the drama unfold next week when The Real Housewives of Orange County airs Mondays at 9 PM EST on Bravo.