Worse Than She Knows! Kenya Moore's Bad Boy New Man Arrested For Beating Taxi Driver, Stealing His Cab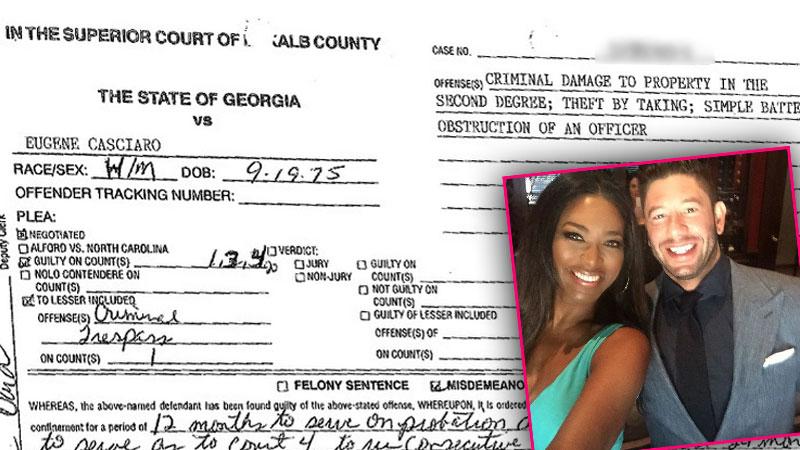 It looks like Kenya Moore's new man has a habit of breaking the law.
Following RadarOnline.com's exclusive reveal that Eugene Casciaro was arrested for simple assault/battery and making terroristic threats in 2007, The Real Housewives of Atlanta star brushed off the story, reminding fans that the charges were ultimately dropped.
But she may not be able to justify this.
Radar can exclusively report that the 40-year-old truck dealer was arrested and charged with criminal damage to property in the second degree, theft by taking, simply battery and obstruction of an officer after he beat up a cab driver and took off in his taxi.
Article continues below advertisement
According to Atlanta's DeKalb County Superior Court documents obtained by Radar, Casciaro first caused more than $500 worth of damage inside the vehicle by "pulling and punching objects within reach" during the July 12, 2009 incident.
PROOF! READ THE SHOCKING COURT PAPERS
Then, Moore's boyfriend began assaulting the victim.
"The accused person…did intentionally make physical contact of an insulting or provoking nature….by striking him," the District Attorney wrote.
The chaos continued when Casciaro "unlawfully" stole the man's taxi and drove off around the Atlanta area.
When a police officer attempted to pull him over, the crazed Casciaro broke the law again by "refusing to bring a vehicle to a stop," the D.A. said.
He was eventually taken into custody and remained in jail for two days.
Casciaro was indicted on all four charges in February 2011, but eventually agreed to a plea deal nine months later, admitting guilt to criminal damage to property, simply battery and obstruction of an officer.
Article continues below advertisement
Instead of theft by taking, his fourth count was reduced to criminal trespassing.
He was ordered to serve 24 months of probation, and complete 100 hours of community service. He also had to pay a $500 fine for his misdeeds.
Moore, 44, first publicly stepped out with her beau in August at a hair care launch, and continues to post lovey-dovey couples pics on Instagram.
"His smile though," she gushed late last month.
Should Kenya dump her new man? Sound off in the comments.