Tyga Calls Kylie Jenner His 'Fiancee' In Shocking Snapchat Clip –– Romantic Display Comes On Heels Of Cheating Rumors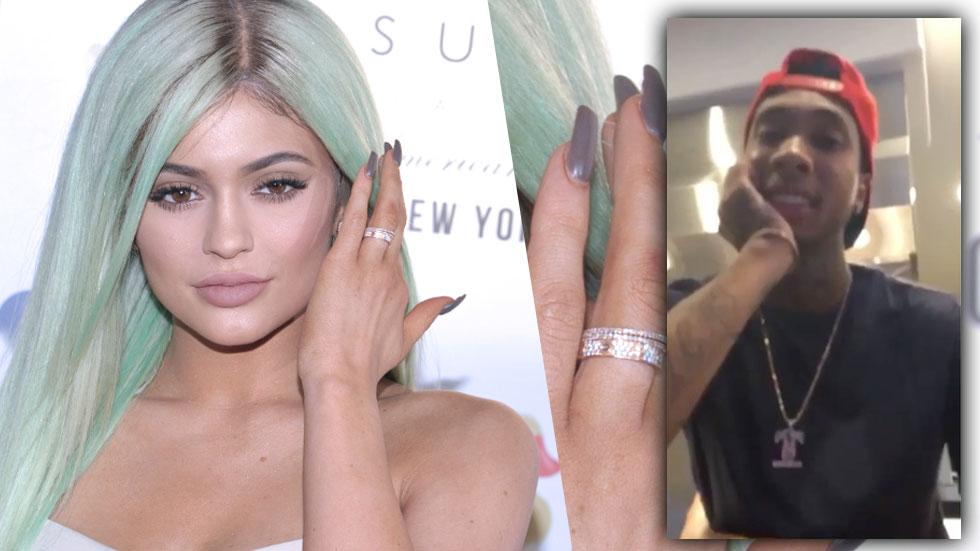 Tyga called Kylie Jenner his "fiancée" in a shocking Snapchat clip the 18-year-old reality star posted Wednesday.
"I don't f**k with nobody, it's just me, my fiancée, this lil' dog I just got," the "Rack City" rapper casually said, as Kylie's legs could be seen snaking around his waist.
Watch the Video on RadarOnline.com
https://instagram.com/p/7_s8apswwz/?taken-by=kylizzlesnapchats
The bold comments come in the wake of Miami rapper Stitches claiming to In Touch that he "had sex with" Kylie behind Tyga's back -- and challenging him to a round of fisticuffs.
Article continues below advertisement
Tyga, 25, "can come see me whenever he wants," vowing to "beat the s**t out of him" if he does, Stitches told the magazine.
As RadarOnline.com previously reported, Stitches' bold claims didn't create a ripple in the young lovers' relationship, according to Kardashian family sources.
"Tyga does not buy this guy's claims for one second," sources said, adding that "Kylie told him that she has never even MET Stitches."
Despite her young age, Kylie's learned to weather the storm of scandal without breaking a sweat.
"Her sisters told her to just get used to this," sources said, "because when you are as famous as she is, this stuff will happen all the time."
Jenner did not immediately respond to Radar's request for comment following the reports.
Readers, do you think they two are secretly engaged? Let us know in comments.