'Strictly Sexual' Star Kristen Kerr Accused By Ex Husband Of Organizing Email Hacking Scheme –– Read The Shocking Court Docs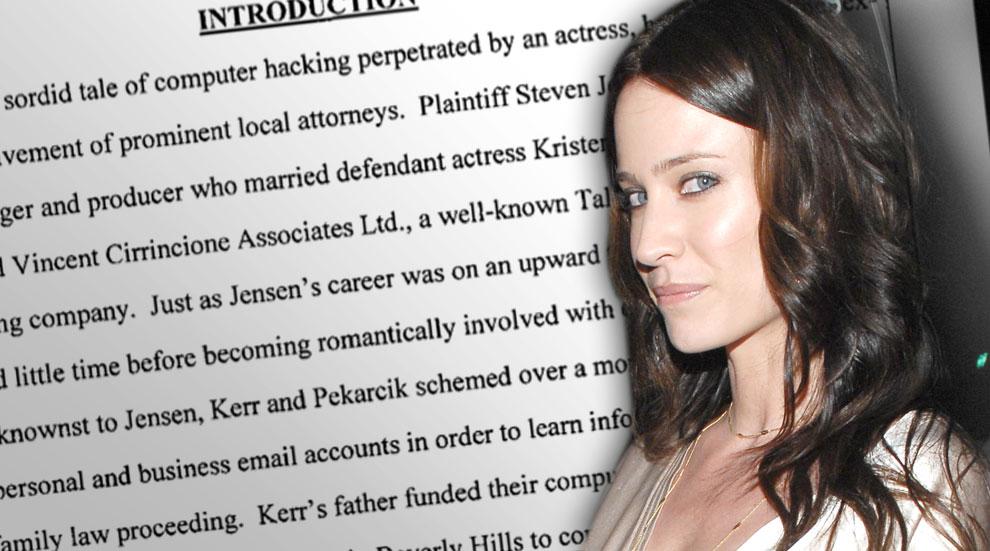 Strictly Sexual's Kristen Kerr, her father, and a purported lover are being sued by her ex-husband for allegedly hacking into his email account, RadarOnline.com has learned.
Steven Jensen, who married the Old School actress in 2005, claims in bombshell court documents that his wife was part of a plot to hack into his email account during their vicious divorce battle.
He claims that his wife, 40, filed for divorce in 2011 and began a relationship with Victor Peckarcik, whom he referred to as her "lover" in the documents.
Article continues below advertisement
Jensen claimed that the two "schemed over a two-year period to hack into Jensen's personal and business accounts in order to learn information that Kerr would use in legal proceedings."
He also claimed that Kerr's father, Clarence Kerr, paid Peckarcik to hack into his accounts; as well as attorney Manuel Medrano, to supervise the hacking.
Jensen states that a friend of Kerr's "came clean, telling Jensen that Kerr had been reading, downloading and disseminating his personal and business emails for more than two years" in the documents filed in Los Angeles County.
Jensen wrote that he is suing his ex-wife, her father, her lover and her attorney for their "brazen conduct."
He claims that during an August 2014 deposition, he was expecting to be asked about custody issues -- but was instead blindsided with questions about his "personal character" including "past instances of purported alcohol and drug abuse," as well as details about his bankruptcy filing.
Jensen said he could "not fathom" how they gleaned the information in order to lead to such a line of questioning.
Jensen writes that Kerr's "intrusion" into his personal and business emails caused him to "lose several clients, as well as a substantial film project."
Kerr's ex tells the court that everyone involved acted with "oppression, fraud and malice," and is asking the court for punitive damages in an unspecified amount for "mental and emotional distress, including pain and suffering."