Khloe Kardashian Jealous Of Kim's Popularity In Armenia –– Fires At Sister For Disapproving Of Lamar Odom Relationship On 'KUWTK' Premiere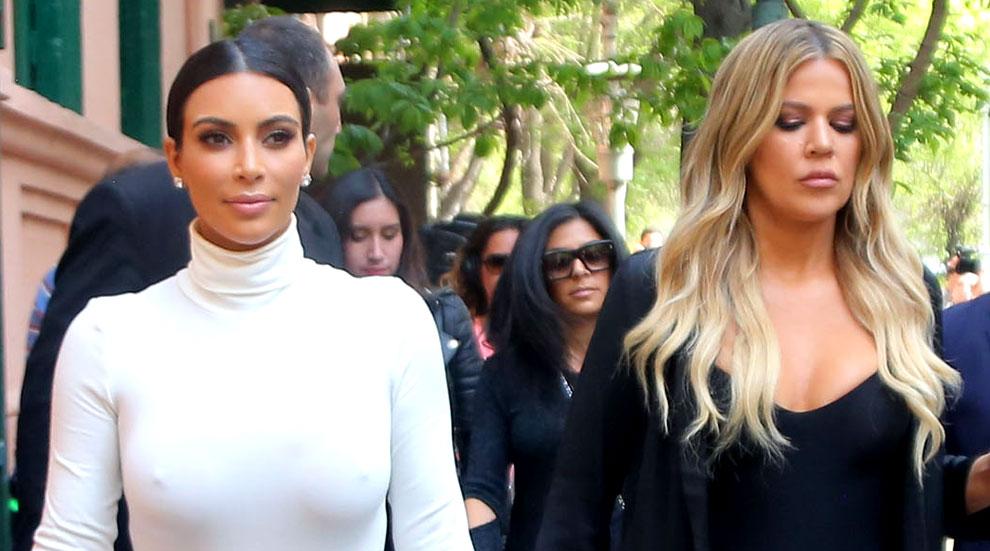 Kim and Khloe Kardashian couldn't escape the drama despite jetting off to Armenia on the mid-season premiere of Keeping Up With the Kardashians, as Khloe clashed with her pregnant sister for stealing the spotlight and disapproving of her relationship with ex-husband Lamar Odom.
When the sisters landed in their ancestors' homeland, Khloe quickly found out that all of the attention would be on Kim!
"It's like I'm with the Princess of Armenia," Khloe quipped when they were greeted to Armenia with crowds of fans screaming Kim's name. "The echo of 'Kim, Kim, Kim.' I think they were so happy to have their queen on their land."
Article continues below advertisement
When they arrived to their hotel, Kim broke the news that she's expecting her second child with her husband Kanye West.
Kim said of the baby news, "I'm so excited. It has been extremely hard to get pregnant. I was so close to giving up and that's when it happened.
"I told North last night, but I don't think she understands."
Watch the video right here on RadarOnline
On their first day in Armenia, the family visited the Megerian Carpet Factory to have dinner. When members clapped for only Kim as she walked passed, Khloe wasn't pleased.
"They clapped for her?" Khloe asked her two cousins who joined the sisters on the trip. "What does she do that we don't do?"
When the women left the factory, security escorted Kim to the car as fans crowded the family, leaving Khloe to fend for herself!
Khloe complained, "My own security should not leave me behind -- I was completely forgotten about!"
But tensions between the sisters only increased when Khloe confessed to Kim that she needs Lamar's number to check in on him.
Article continues below advertisement
"Why do you need Lamar's number?" Kim asked. "You just deserve so much better!"
Khloe fired back, "I wanted to make sure he's okay. Can't I do that? I'm his friend and I care to see if he's alive for the day.
"I don't ever come at you about all the sh*t you used to do before you got married so take a chill pill slore."
Watch the video right here on RadarOnline
While the sisters put their drama aside during their emotional trip to the Armenian Genocide Memorial, they couldn't help but think about their troubled brother Rob Kardashian, who bailed on the trip because of his struggle with weight gain and depression.
Kim told her sister, "Right before dad passed away he said, 'I know you're going to be okay. I'm just worried about my son.' I really tried hard to get Rob to be motivated and to get him on the trip but that didn't happen.
"I feel like I failed my dad and that just makes me sad."
Khloe explained that if Rob doesn't want their help, there is nothing they could do.
"All we can do is be there for Rob," Khloe said before revealing that Rob texted her saying, "I'm going to make my comeback."
Article continues below advertisement
Back in California, Kourtney Kardashian and her then-boyfriend Scott Disick expressed their concern for Kylie Jenner, who seemed disconnected from the family ever since her father Caitlyn Jenner transitioned from a male to a female.
Kourtney told their mother Kris Jenner, "Kylie is such a b*tch. I literally wrote her last night and I was like, 'Hey do you want to workout with me?' You could at least write back."
Kris responded, "I really worry about Kylie all the time with everything going on with the transition."
Kourtney then devised a plan to have Scott hang out with Kylie alone, hoping she would be more inclined to open up to him. But when Scott showed up to Kylie's sushi date with her friend uninvited, Kourtney's plan backfired!
"Are you stalking me?" Kylie asked him. "You're embarrassing me in front of my friend!"
Article continues below advertisement
Scott explained in his confessional, "I don't think anybody really knows what's really going on with Kylie so I decided to check in to see if there is anything suspicious going on with her."
In an effort to get Kourtney and Scott off her back, Kylie explained the reason she has been so distant is because she doesn't want her close relationship with Caitlyn to hurt her mother's feelings.
"I've been spending a lot of time with dad," Kylie explained to her older sister. "I've been there almost every day and I know mom will be weird about it. I don't want to hurt her.
"I have such a different relationship with my mom and dad and I feel caught in the middle."
Keeping Up With the Kardashians airs Sundays at 8/7c on E!