Jessica Simpson Has Shocking Appearance On Home Shopping Network –– Star Ripped On Social Media As 'Wasted'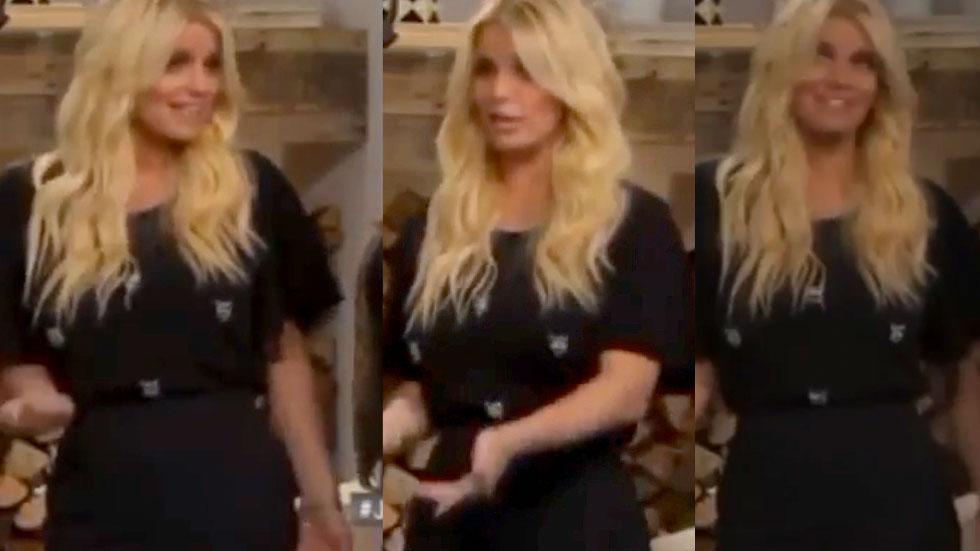 Jessica Simpson was roasted on Twitter over her bizarre behavior during a Home Shopping Network appearance, with users claiming she looked like she was "drunk," "stoned" and "wasted."
Watch the video on RadarOnline.com
The 35-year-old Texas native jerked and swayed while talking up various items from her clothing line in a two-hour segment with host Colleen Lopez.
The "With You" singer was all over the place as she talked about how sister Ashlee and husband Evan Ross both wear the pants in the family -- literally, the same pair.
Article continues below advertisement
"Ashlee is like the best at wearing grey, my sister," the mother-of-two told HSN viewers. "Like, she's very rock 'n' roll, but there's something about a grey that's like ... sexy.
"Maybe it's her and her husband, they share jeans -- I have no idea -- I don't know, there's just something hot about them."
When Lopez, doing her best to save the segment, said that women "obsessed" over the stylish jeans, Jessica chimed in, "Maybe men too, you never know!"
Needless to say, the feedback was fast and furious after the trainwreck, with responses such as:
@RainsDesign: "I've never watched @HSN before. Jessica Simpson seems wasted, so this is entertaining. #jessicaonhsn."
@heyheyKEN10: My friend just alerted me to Jessica Simpson on HSN...she's drunk. It's awesome. #JessicaSimpson #HSN
@1carolinagirl88: "I was changing channels & seen @JessicaSimpson is on #hsn so I watched for a couple minutes.Idk how shes a business woman.she seems stoned!"
Lopez didn't seem too flustered with the fiasco, writing on her Facebook page: "Thank you so much for watching tonight! Congrats to Jessica Simpson and her Mom, Tina on a sell out show!!"
Thank you so much for watching tonight! Congrats to Jessica Simpson and her Mom, Tina on a sell out show!!

Posted by Colleen Lopez on HSN on Thursday, September 17, 2015
The appearance was reminiscent of another bizarre outing she had earlier this year during a red carpet interview with Extra at a Teen Vogue event.