Jackie Collins Death Shocker: Inside 'Bitter' Feud With Sister Joan -- Dark Secrets Of The Divided Dynasty Revealed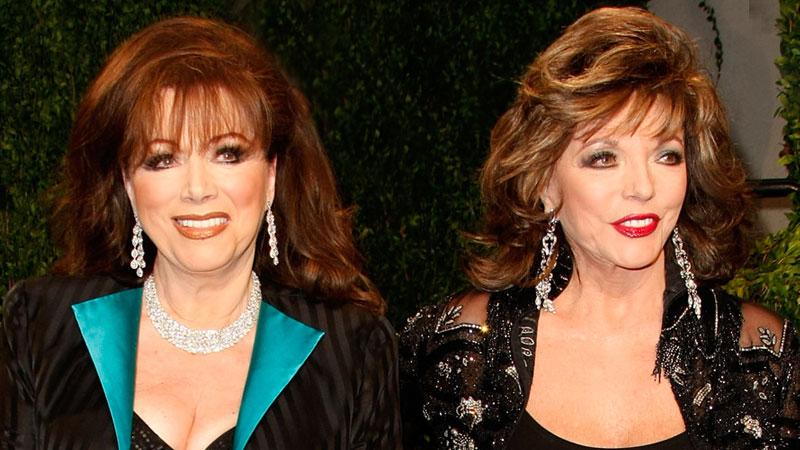 Jackie Collins' life was, literally, an open book. But after the best-selling author and sister to Dynasty icon Joan Collins died suddenly on Sept 19 at age 77 from breast cancer, a source very close to the Collins family opened up to RadarOnline.com exclusively about the dark and bitter family secrets that Jackie took with her to the grave.
Following her sister's passing, Joan shared an intimate photo of her and Jackie on her Twitter and wrote, "Farewell to my beautiful brave baby sister. I will love you and miss you forever. Rest in peace."
Article continues below advertisement
But although the novelist was diagnosed with stage 4 breast cancer more than six years ago, Jackie revealed in a recent interview that she did not tell her sister Joan of her condition until weeks before she passed. Instead, she revealed the reality of her terminal illness to her closest family members, including three daughters Tracy, 54, Tiffany, 48, and Rory, 46.
When asked why she chose to keep the truth from her own sister, Jackie said, "'I just felt she didn't need it in her life. She's very positive and very social but I'm not sure how strong she is, so I didn't want to burden her with it.'"
But an insider tells Radar, "The truth of the situation is that Jackie and Joan could not have been any more estranged. The reason that Jackie did not tell Joan that she was about to die was because she didn't want Joan pretending that she loved her so much so that Jackie would cut Joan into her will!"
However, according to the source, Jackie was not he only one in the Collins family butting heads with Joan.
Article continues below advertisement
"The entire family cannot stand Joan because she is a total b*tch and only cares about herself. She always has," the source tells Radar.
"When Joan was at the height of her fame, she treated everyone in her life like they were worthless, including her sister and her family," the source says. "Then, years later, Joan's star faded and Jackie became an incredibly successful author."
The success brought incredible wealth to Jackie and her net worth is reported to be close to $185 million, which is more than six times that of Joan's $30 million fortune.
"The tables completely turned and Joan became very envious of Jackie's life, including the fact that she had a family that she was so close to and that everyone adored her," the insider claims.
"Unfortunately, Joan will likely not get much from Jackie's will, and whatever she gets will be out of pure sympathy. Jackie's fortune will go to her daughters, as it should."