Home Wrecker? Carly Fiorina Started Dating New Husband Months BEFORE He Left First Wife –– Ex Tells Radar 'You'll Figure Out The Kind Of Person She Is!'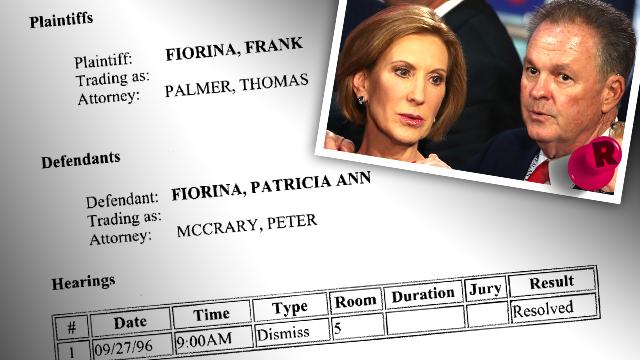 Republican presidential hopeful Carly Fiorina may seem like a happy family woman, married to her devoted husband Frank for 30 years— but her smiling exterior hides a dark, and at times devious past!
In addition to losing her stepdaughter, Lori, to drug and alcohol addiction in 2009, Carly, now 61, was the "Other Woman" in her husband's former marriage!
According to Virginia's Prince William County Court documents obtained by RadarOnline.com, Frank filed for divorce from his wife Patricia on December 10, 1981.
Article continues below advertisement
However, Carly has proudly declared she fell in love with Frank when Lori was just six years old, meaning she started dating her fellow former AT&T exec in 1980 — roughly one year BEFORE his split from the little girl's mother.
Carly's divorce from her first husband, Todd Bartlem, seems just as messy. According to Maryland's Montgomery County Circuit Court documents, she filed papers on May 31, 1984.
THE PROOF! READ THE DIVORCE DOCUMENTS
But it seems that she was already shacking up with Frank! In the documents, the politician listed her home address as being in Manassas, Virginia, where the now 65-year-old was living at the time.
Carly and Frank eventually tied the knot in 1985.
More than 30 years later, Bartlem is still bitter about the nasty breakup from the former Hewlett Packard CEO, who critics say lead to the tech company's decline. (She was fired in 2005.)
"The same thing that happened to HP will happen to the United States," Bartlem exclusively tells RadarOnline.com
"You'll figure out the kind of person she is!"